'Wallbreaking' kicks off library renovation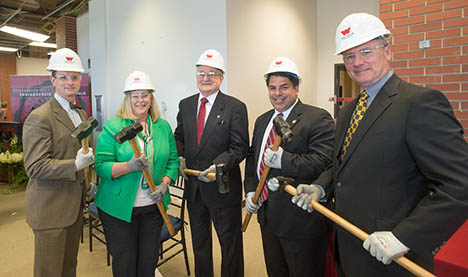 Speaking and testing their sledgehammer skills at Tuesday's ceremony were (from left) Krannert Memorial Library Director Matthew Shaw, Executive Vice President and Provost Deborah Balogh, UIndy President Emeritus Gene Sease, President Robert Manuel and F.A. Wilhelm Construction Co. President Philip Kenney.
It takes a unique event to launch a unique renovation project, and that's what happened at Tuesday morning's "wallbreaking" ceremony to kick off the extensive overhaul of UIndy's Krannert Memorial Library.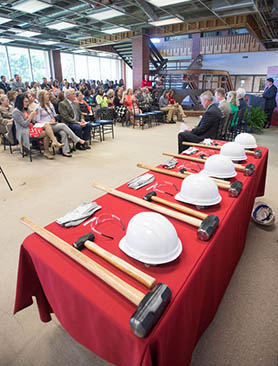 An unfortunate wall took a sledgehammer beating at the hands of UIndy President Robert Manuel; President Emeritus Gene Sease, who led the construction of the library in 1977; Executive Vice President and Provost Deborah Balogh; library Director Matthew Shaw; and Philip Kenney, president of F.A. Wilhelm Construction Co., which is managing the $5.5 million project.
Designed by RATIO Architects, the new and improved Krannert Memorial Library will reopen this fall with a radically reconfigured interior geared toward maximum flexibility and digital connectivity to suit all learning styles. New features will include a café with food service, an outdoor plaza, a 24-hour study lab, and a glass-curtain exterior wall to provide all three upper stories of the building with natural light and views across UIndy's central Smith Mall. More details about the renovation are here.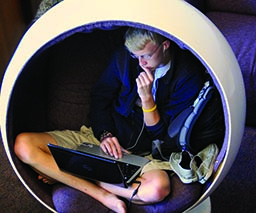 One feature that won't change is the iconic set of retro-looking spherical chairs that date to the library's original construction. Popular among students for their cozy comfort and sound-muffling properties, the so-called "egg chairs" were singled out for praise in NUVO Newsweekly's 2007 "Best of Indy" issue. In the new design, the classic models will be joined by four similar new chairs to continue this Greyhound tradition. Guests at Tuesday's ceremony were invited to pose for photos in one of the chairs.
Now closed for the renovation project, the library's interior will open for use by the start of fall classes in August. Exterior work should be completed in September, and a dedication ceremony is scheduled for Oct. 3 during Homecoming festivities.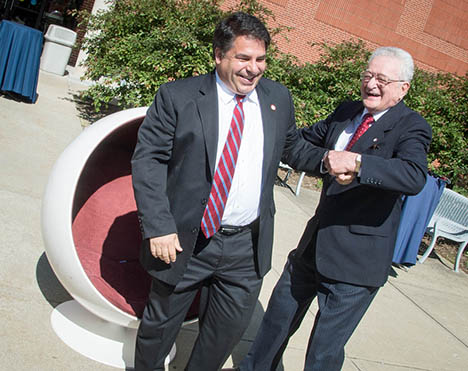 Presidents Manuel and Sease clown around Tuesday while posing for egg chair photos before the wallbreaking ceremony at Krannert Memorial Library.