Campus co-chaplain earns statewide honor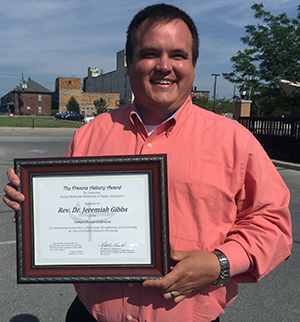 UIndy co-chaplain the Rev. Jeremiah Gibbs has received this year's Francis Asbury Award from the Indiana Conference of the United Methodist Church.
The award from the UMC's General Board of Higher Education recognizes individuals who have made significant contributions to higher education and campus ministries. It was presented during the church's recent 2015 Indiana Annual Conference in Indianapolis by Dr. Aleze M. Fulbright, the conference's director of leadership development.
"I believe the work that Dr. Gibbs provides at the University of Indianapolis will yield the United Methodist Church with greater leaders, young and diverse, that will accomplish the mission of making disciples and transforming the world," she said.
Gibbs joined UIndy in 2009 and serves as co-chaplain and as director of the Lantz Center for Christian Vocations & Formation, which provides classes, retreats, spiritual mentoring and other opportunities for students to explore their potential as faith leaders. He is a U.S. Marine Corps Reserve veteran and holds a Ph.D. in Theology and Ethics from Garrett Evangelical Theological Seminary.
In May, Gibbs led a UIndy student and staff group on a 21-day, 165-mile walk along Spain's renowned Camino de Santiago pilgrimage route. Notes and photos from the adventure are posted on the group's Facebook page.