New VP to lead communications and marketing
Jeanette DeDiemar was 2014 Higher Education Marketer of the Year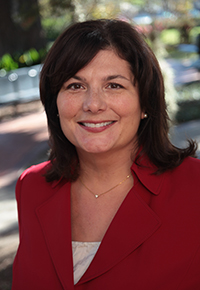 A strategic marketing and communications leader with extensive experience in and outside of higher education has been selected vice president of communications and marketing at the University of Indianapolis.
Honored in 2014 as the American Marketing Association's Higher Education Marketer of the Year, Jeanette Marie DeDiemar served most recently as associate vice president of university communications at Florida State University. Previous positions have included executive director of integrated marketing and communications at the University of Wisconsin Oshkosh and business marketing director for @Wales, a high-tech digital media business accelerator in the United Kingdom.
At UIndy, DeDiemar will lead the institution's expanding communications efforts, as well as the integrated marketing and communications team responsible for media and public relations, print and digital marketing, design and production, publications, internal communications and social media. Chosen from hundreds of candidates after a national search, she will report directly to university President Robert Manuel, effective Aug. 1.
Manuel described DeDiemar as the clear choice for the position amid an ongoing campus and neighborhood development plan that includes new programs and multiple capital and construction projects, all designed to transform the student experience and elevate quality of life in the surrounding community.
"Dr. DeDiemar brings an impressive and extensive record of building creative teams and leading effective, comprehensive marketing and communications initiatives that are focused on collaborations, measureable results and authenticity," he said. "Her expertise and versatility will be invaluable in enhancing UIndy's profile and building support for our future growth."
DeDiemar said she is looking forward to working with faculty, staff, students, alumni and the greater community to more broadly and boldly share the university's stories of inspiration, relevance and impact.
"I am impressed with the vision and energy President Manuel has for the University of Indianapolis and excited to join an institution that is so profoundly affecting the lives of students and the community," she said.
DeDiemar holds a doctorate in education and a master's degree in mass communication from Kansas State University, along with a bachelor's degree in journalism from the University of Wisconsin Oshkosh. A sought-after presenter at national and professional conferences, she is a member of the American Marketing Association, the Council for the Advancement and Support of Education and the Public Relations Society of America, serving on the executive committee of PRSA's Counselors to Higher Education.
The Wisconsin native and her husband, Lyndon "Steve" Delloy, enjoy theater, cinema, antiquing, traveling and the occasional motorcycle trek.