Prof's cave crawl turns up new spider species
VIDEO: Click here for a firsthand view of cave research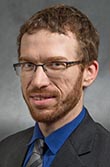 Crawling into dark caves to look for spiders is not everyone's idea of fun, but it works for Assistant Professor of Biology Marc Milne – especially when it pays off with fresh scientific discoveries and research opportunities for students.
Dr. Milne, an ecologist by training with a particular interest in spiders, mosquitoes and carnivorous plants, was still new to UIndy in November when he and undergraduate Tyler Smith undertook a three-day, four-cave expedition to Alabama. There they joined with researchers from the University of Florida to search for previously unknown invertebrates, specifically spiders, millipedes and tiny arachnids called pseudoscorpions.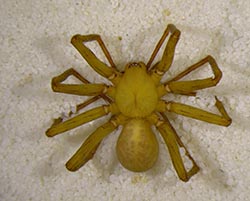 In the time since the trip, Milne and his national network of colleagues have determined that some of the specimens they found are entirely new to science. One spider represents a new, sixth species belonging to the genus Liocranoides, which previously included only five known species. One of the pseudoscorpions is not only a new species, but apparently a new genus. And one millipede from the caves represents a previously unknown subspecies.
Discoveries like these provide not just material for academic journal articles, but also opportunities for students to get involved in hands-on field and laboratory work. Milne and his colleagues in the Department of Biology are making a concerted effort to enlist more undergraduates as research assistants, providing experiences that often are reserved for graduate students at other institutions.
"When undergraduate students engage in this type of hands-on research, they are more likely to get excited about biology and to gain experience that can give them a big advantage when applying to graduate and pre-professional programs – even in areas such as nursing, OT and PT," Milne says.
So how does one pin down the species of a spider – a tiny spider that looks a lot like other spiders? Well, a species is defined as a group of organisms that can breed with each other but not outside the group. Therefore, the key differences between otherwise similar species are typically found in their private parts.
"Usually, what you're looking at difference-wise is the genitalia," says Milne, who is getting a lot of mileage out of the department's new dissecting microscope. "It's weird, but that's how it goes."
He plans to continue the quest for new invertebrates this summer, exploring caves in Alabama, Tennessee and Georgia, as well as the Mammoth Cave system in Kentucky.