CASA guides students toward successful outcomes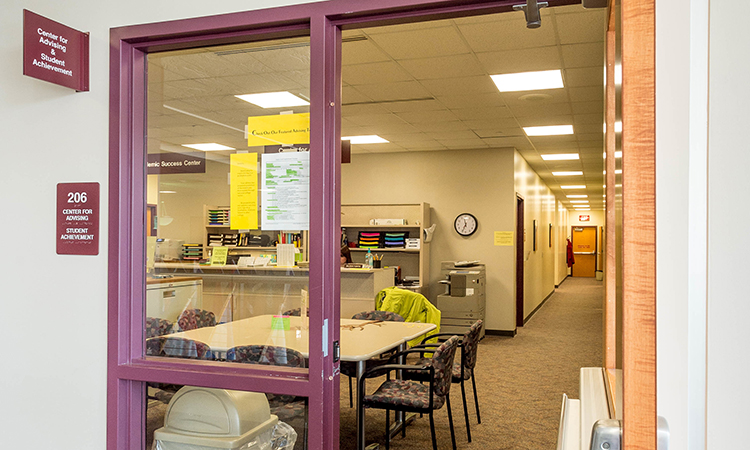 When it comes to meeting course requirements and juggling busy schedules, some students benefit from one-on-one direction to see the "big picture" of their academic career. The Center for Advising and Student Achievement (CASA) offers that guidance in a centralized format every step of the way.
Kristen Gandenberger '19 is pursuing a degree in digital media studies, which includes courses in communication, English, art and computer science. Because her major is  interdisciplinary, she doesn't have one department to turn to for advice as most students do. As a freshman, she sought out CASA for valuable personalized counseling to keep herself on track with her academic goals.

""Since then I've visited Sunni (Manges, her advisor) several times about many different things, from making room in my schedule for internships to dealing with last-minute class cancellations to considering changing my major,"" Gandenberger explained.

That broad support and focus on student success is by design, said Lela Mixon, CASA director. The ultimate goal is to increase retention and graduation rates through advising and registration services–personalized services determined by the needs of each student.

CASA is part of the advising team that meets with incoming freshmen, who are then assigned to an academic or faculty advisor for every registration cycle. Advisors introduce first-year students to the University's degree requirements, the general education core and to their major.
"If they're exploring, we introduce them to our academic and career exploration program (ACE) to help them land on a major," Mixon said.

Students receive written audits twice during their academic career at UIndy: once as juniors and again as seniors. During senior year, CASA counselors meet face-to-face with students to make sure they're on track to complete their degree.

"During these meetings, we are able to update students, make sure they have waivers, exceptions, or catch them if they're off track and update them on their pending graduation date," said Mixon.

After becoming centralized in 2013, a process which allowed the University to concentrate advising services in one location, CASA recorded roughly 10,000 student visits the first year. Since then, activity has remained steady, ranging from more than 9,500 visits in 2015-16 to 8,600 in 2016-17.

CASA also conducts an annual survey to determine student satisfaction. Some 97 percent of students are consistently pleased with CASA's services and advising at UIndy in general. Mixon attributes that success not only to CASA's data-focused strategy but also to partnerships with other support services, including ProEdge, the University's career-counseling service.

"CASA's academic success advisor works very closely with ProEdge's career navigator to have students complete the assessment, participate in programs, then declare a major that is meaningful. We want to make sure they are considering their whole self," Mixon said.

For students like Gandenberger, CASA fills the gaps that are critical to the success of students of all majors.
"I would recommend CASA to students who need help looking holistically at their college experience. My conversations with Sunni have made me feel like I'm using the short time I have at UIndy in the best way to reach my individual goals," she said.