Kellogg Series to feature acclaimed writers
A parade of award-winning writers will read and discuss their work on campus this coming year through the annual Allen & Helen Kellogg Writers Series.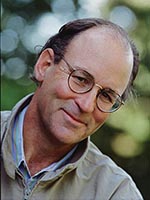 The notables include Pulitzer Prize and National Book Award recipient Tracy Kidder and celebrated Indiana-based writer Scott Russell Sanders. This year's series is directed by Associate Professor Kevin McKelvey, who has assumed the mantle from English department colleague Dr. Elizabeth Weber.
All events are free and take place in the Trustees Dining Room of Schwitzer Student Center, unless otherwise noted. The full schedule is:
Aaron Michael Morales
Monday, September 14, 7:30 p.m.
Aaron Michael Morales' fiction has appeared in Superstition Review, Another Chicago Magazine, Passages North, and MAKE Magazine, among other places. His first collection of short fiction, From Here You Can Almost See the End of the Desert, was published in 2008 by Momotombo Press at the University of Notre Dame's Institute for Latino Studies. He has authored one novel, Drowning Tucson, and is currently at work on his second, Eat Your Children. He is also the author of a popular culture composition textbook, The American Mashup: A Popular Culture Reader, and is a regular contributor to Terre Haute Living Magazine and other publications. The Arizona native holds a master of fine arts degree from Purdue University and has taught at several colleges. He currently serves as CEO of Agave Vintage Cocktails in Terre Haute.
Shonda Buchanan
Wednesday, September 23, 7:30 p.m.
Poet, memoirist, and fiction writer Shonda Buchanan is a culture and literary arts ambassador whose presentations, workshops, and lectures demonstrate her passion for exploring gender, ethnicity, family, heritage, landscape, environment, and ancestry. She edited the poetry anthology Voices from Leimert Park, and her poetry collection Who's Afraid of Black Indians? was nominated for the Library of Virginia Literary Awards and the Black Caucus of the American Library Association Literary Awards. She has contributed to the Los Angeles Times, L.A. Weekly, The Writer's Chronicle, and American Public Media's Marketplace, and has been featured on National Public Radio's Tell Me More. She is an assistant professor of English at Hampton University, where she teaches writing and editing.
Tracy Kidder
Thursday, November 12, 7 p.m.
Ransburg Auditorium
Author Tracy Kidder is considered a master of creative nonfiction and literary journalism. He won the Pulitzer Prize for General Nonfiction and the National Book Award for Nonfiction with his 1981 book The Soul of a New Machine, which follows a team of researchers struggling to design a new computer. His UIndy appearance will focus on his acclaimed 2003 work Mountains Beyond Mountains, a biography of physician and anthropologist Paul Farmer that traces his efforts to fight infectious disease around the world. (Farmer himself will appear at UIndy on Oct. 6 to speak on global health issues.) Kidder, a Vietnam veteran who graduated from Harvard and studied at the University of Iowa, lives in Massachusetts and Maine.
Scott Russell Sanders
Wednesday, November 18, 7:30 p.m.
McCleary Chapel, Schwitzer Student Center
Bloomington resident Scott Russell Sanders has written 20 books of fiction and nonfiction, including A Private History of Awe, A Conservationist Manifesto and the 2014 novel Divine Animal. Three decades of his essays were collected in Earth Works, published in 2012 by Indiana University Press. Among Sanders' honors are the Lannan Literary Award, the John Burroughs Essay Award, the Mark Twain Award, the Cecil Woods Award for Nonfiction, the Eugene and Marilyn Glick Indiana Authors Award, and fellowships from the Guggenheim Foundation and the National Endowment for the Arts. In 2012 he was elected to the American Academy of Arts and Sciences. He is a distinguished professor emeritus of English at Indiana University, where he taught from 1971 to 2009.
Alec Cizak
Monday, March 7, 7:30 p.m.
Alec Cizak is a writer and filmmaker from Indianapolis whose work has been featured in more than a dozen journals and anthologies since the late 1990s. Most recently, his stories have appeared or are scheduled to appear in the Wayne Literary Review, Beat to a Pulp, and Profane. He edits the literary journal Pulp Modern, and a collection of his short fiction, Crooked Roads, was published by All Due Respect Books in 2015. Cizak also has written and directed several short and feature-length motion pictures. In 2015, he completed post-production on his latest feature film, Kato Therapy, which he financed, wrote, directed, shot, and edited.
Adrian Matejka
Wednesday, April 13, 7:30 p.m.
Adrian Matejka was born in Nuremberg, Germany, and grew up in California and Indiana. His first collection of poems, The Devil's Garden, won the 2002 New York/New England Award from Alice James Books. His second collection, Mixology, published by Penguin Books in 2009, was a winner of the 2008 National Poetry Series and a finalist for the NAACP Image Award for Outstanding Literature – Poetry. His most recent book, The Big Smoke, received the 2014 Anisfield-Wolf Book Award and was a finalist for the 2013 National Book Award, the 2014 Hurston/Wright Legacy Award, and the 2014 Pulitzer Prize in Poetry. He has received fellowships from the Guggenheim Foundation and the Lannan Foundation, and his work has appeared in leading journals and anthologies. He teaches at Indiana University in Bloomington and is working on a new collection of poems and a graphic novel.
The mission of the Kellogg Writers Series is to bring writers of distinction to campus for public readings and discussions. For more information, contact Dr. McKelvey at (317) 788-2018 or mckelveyk@uindy.edu.