On the air: Education prof touts school options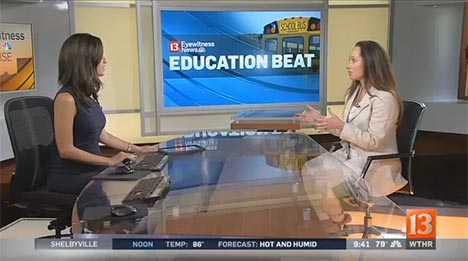 UIndy education professor Azure Angelov (right) talks with anchor Naomi Pescovitz last weekend on the WTHR set. (Still from video)
In Indianapolis, back-to-school shopping means a lot more than it used to.
No longer bound by district borders, families now can choose from an impressive variety of traditional public, charter and private schools that increasingly offer specialized programs to attract students.
Associate Professor Azure Angelov of UIndy's School of Education was interviewed in the WTHR studios this week about how interested families can navigate the many choices to find the best fit for their children and their circumstances.
"The landscape is amazing," she said. "Finding really solid information to help you make an informed choice is important."
Watch the three-minute interview here or here.
Alongside her UIndy work, Dr. Angelov is board president of the Indiana Family, School, and Community Partnership Center; an evaluator for the Indianapolis Mayor's Office of Education Innovation; and co-author (with UIndy marketing professor Deidre Pettinga) of Educational Marketing: More Than Just Telling Your Story. She recently penned an opinion column for local newspapers on the many local school options. The text is below.
Back-to-school shopping takes on new meaning in Indianapolis
By Azure D.S. Angelov, Ph.D.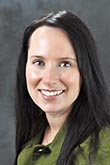 Recent years have brought dramatic changes to the educational landscape of Indianapolis. With the proliferation of public school options and the shift to a balanced calendar, "back to school" no longer means buying uniforms and backpacks in August. Families now face the challenge and the opportunity to find the right fit for their children, a process that should be well underway by June and July.
The good news is that Indianapolis is home to a diverse selection of high quality schools, operated by traditional public school districts and charter organizations alike. Many cater to very specific student populations, as I've learned through my work as an associate professor in the University of Indianapolis School of Education and as board president for the Indiana Center of Families, Schools, and Community Partnerships.
Examples abound. For a classic liberal arts-focused education, look no further than Herron High School, ranked by U.S. News & World Report as one of the Top 100 high schools in the nation. If you want your child to speak more than one language, you can pick from Forest Glen Elementary in Lawrence Township, the districtwide International Baccalaureate programs in Washington Township or the newly chartered Global Preparatory Academy, set to open in the International Marketplace district in 2017.
Christel House Academy South was named a 2014 "School to Watch" by the National Forum to Accelerate Middle-Grades Reform, based on its comprehensive middle school programming. Wayne Township now offers Achieve Virtual Academy, an exceptional educational choice for those seeking online education. Teens navigating addiction can attend Hope Academy on the city's north side and focus on recovery as well as a diploma, entering adult life with the support they need for a healthy future. Children and even parents who have dropped out of school can find a second chance at one of several Excel Centers located across the city.
Paramount School of Excellence is an inner-city elementary school with a hands-on, eco-friendly atmosphere that includes a wind turbine and planetarium as well as chickens and goats. It is on track to become a certified creamery later this summer, enabling students to build business skills by selling the products their animals produce.
Throughout June and July, I encourage families to engage in the new form of back-to-school shopping. Go on school tours, ask to meet teachers, review websites and social media accounts, talk to other families and students, and take note of extracurricular experiences, transportation options, cleanliness, safety, before- and afterschool programs, food service and calendars. The possibilities may surprise you.