Presidential Ambassadors program celebrates 40th anniversary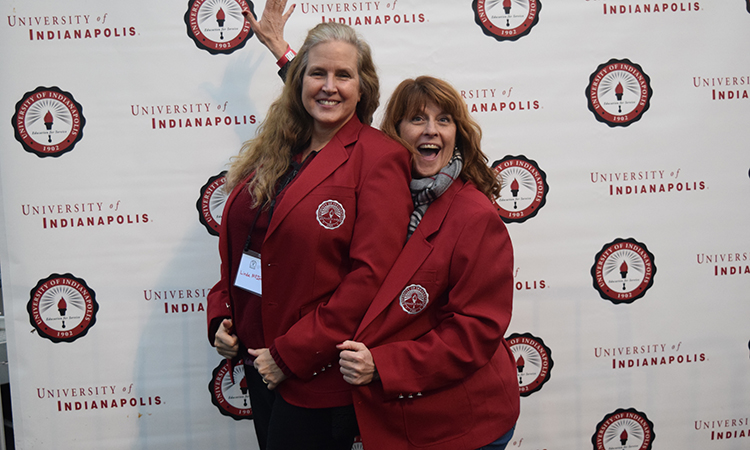 The trademark red jacket wouldn't quite fit Ralph Reiff '80, so he proudly hung the jacket over his shoulder for a quick photo opportunity at a recent University of Indianapolis football game.
"I remember Dr. Sease took about a dozen of us to Interstate Jobbers up on Madison Avenue to buy these jackets when we first came on board," said Reiff, one of the first cohorts of students to have the honor of serving as a Presidential Aide (now Presidential Ambassadors) in 1977.
"We all had matching ties, too," he recalled. "It really was a great honor, because you knew you had to elevate your game as you were representing the president's office. We learned a lot about self-accountability, and it became a valuable asset in life."
For 40 years, the Presidential Ambassadors program (recognized by their red blazers) has offered hand-selected students the opportunity to represent the Office of the President at UIndy events and provide a student perspective as the administration enhances campus life. The program celebrated the anniversary on Nov. 4 by inviting former ambassadors back to campus for a special recognition held at halftime of the undefeated Greyhounds Football game.
Reiff, now executive director for St. Vincent Sports Performance, smiled when describing his strong connection to UIndy. He met his wife Brenda '80 while an undergraduate, and the two later married. Not only that, former UIndy President Dr. Gene Sease performed the ceremony at the University Heights United Methodist Church in 1982.
"We got a call from Dr. Sease just last summer because he was going through some old things and came across our wedding license. It was just unreal after 35 years!" Brenda Reiff said.
Carol Hauswald Wietholder '86 also was excited to return to campus. She even looked through some old copies of The Oracle yearbook to find some photos from her time in the PA program.
"I am kind of a take-the-bull-by-the-horns type of person, and I enjoyed gaining some interpersonal skills through the program. It was neat to talk about the program and promote this school," which at that time was still Indiana Central College.
Darcy Harrington '89 '90 had the opportunity to serve as a PA under two presidents: Sease and Ben Lantz.
"It was nice to connect with my fellow students as we represented the school at events," she said.
For many of the former PAs, the program helped to support their decision to attend UIndy and developed a love for the University that continues today.
"My life has been greatly enriched by having come to UIndy. It's been a tremendous asset, not only to the people who attended here but also the city," Reiff said.