DeHaan Gallery unveils upcoming exhibitions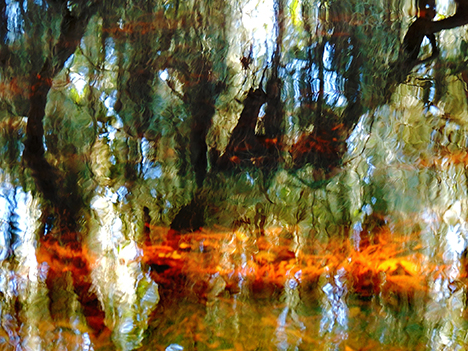 The photography of Donna Adams will be part of the UIndy Art & Design Emeriti show, kicking off the new season in the Christel DeHaan Fine Arts Center Gallery.
The UIndy Department of Art & Design has a series of intriguing exhibitions on the 2015-2016 schedule for the Christel DeHaan Fine Arts Center Gallery.
The gallery is curated by faculty member Mark Ruschman, chief fine arts curator for the Indiana State Museum and Historic Sites, with help from colleagues and students. Admission is always free to the gallery, which is open 9 a.m. to 9 p.m. weekdays.
The season opens Aug. 24 with a show featuring emeriti faculty from the department. The full schedule follows.
UIndy Art & Design Emeriti
Aug. 24 through Sept. 25
Reception: 4-6 p.m. Sept. 9
Former faculty members of the UIndy Department of Art & Design showcase their own artwork in the areas of ceramics, photography, and calligraphy.
Keep It Simple
Oct. 5-30
Reception: 4-6 p.m. Oct. 5
This exhibition is mounted in conjunction with TEDxIndianapolis, a cross-pollinating conference featuring speakers with big ideas from the fields of technology, education, art and design, and more, organized around a powerful theme: keep it simple. What do we gain when we step back and pare down to the essential elements? What happens when the simplicity principle is applied to challenges in creativity?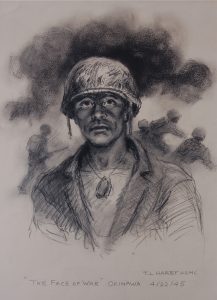 The Face of War: The Combat Art of T.L. Harby
Nov. 9 through Dec. 11
Reception: 4-6 p.m. Nov. 10
This selection of works by World War II Marine combat artist and Private First Class T. L. Harby includes drawings created during the Pacific Campaign, from Camp Pendleton to occupied Japan and battles in between. His creations are a firsthand visual account of the experiences of U.S. Marines during World War II.
Public Art in Indy
Jan. 19 through Feb. 12
Reception: 4-6 p.m. Jan. 25
In conjunction with the Richard M. Fairbanks Symposium on Civic Leadership, this exhibition of selected works will trace the role of public art in the city from the late 1960s to the early 2000s. Although Indianapolis' sports strategy has garnered significant attention, at the same time, beginning with Mayor Richard Lugar, local leaders embarked upon a strategy to rejuvenate the city by engaging in art projects throughout the community.
Continuum: Gallery Installation by Rachel Hellman and Jennifer Caine
Feb. 21 through March 18
Reception: 4-6 p.m. Feb. 21
Rachel Hellmann of Terre Haute and Jennifer Caine of Hanover, N.H., have been collaborating since 2013, following a decade of trading studio visits, exhibiting, and curating exhibitions together. For this UIndy exhibition, they will create a piece conceived as a large-scale artist's book, using paint, text, paper, thread, Tyvek, and a variety of other materials to alter the physical space of the gallery. They will draw from their background as painters to create an experience steeped in color and light. Past installations have included the Artists-in-Residence program at The Ragdale Foundation in Lake Forest, IL; the Interface Residency in Batavia, IL; and the Addison Gallery of American Art in Andover, MA.
Art & Design Juried Student Exhibition
April 4 through May 7
Reception: 4-6 p.m. April 4
This annual juried exhibition showcases the art and design work of University of Indianapolis students.