Governor greets new Woodrow Wilson fellows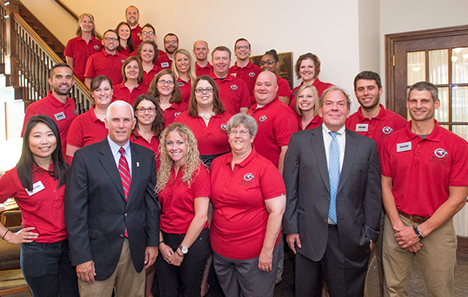 Gov. Mike Pence and Woodrow Wilson Foundation President Arthur Levine — the guys in the suits — pose today at Stierwalt Alumni House with UIndy's new class of Woodrow Wilson MBA Fellows in Education Leadership.
Indiana Gov. Mike Pence and scores of up-and-coming Indiana educators visited campus this morning for the introduction of this year's new classes entering the Woodrow Wilson Indiana Teaching Fellowship and the Woodrow Wilson MBA Fellowship in Education Leadership programs.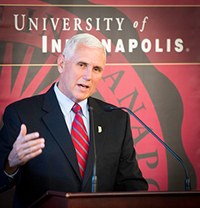 Through a partnership with the Woodrow Wilson National Fellowship Foundation supported by Lilly Endowment, UIndy's School of Education, School of Business and Shaheen College of Arts & Sciences have been instrumental in developing the programs from local pilots into national models for the preparation of STEM teachers and innovative school administrators.
Executive Vice President and Provost Deborah Balogh, who has overseen the partnership, introduced the governor and Woodrow Wilson Foundation President Arthur Levine before an SRO crowd at Stierwalt Alumni House that included the new program fellows, reporters, local education advocates and representatives from other participating universities.
The education MBA program, which allows Indiana school districts to develop new leaders from within their ranks, debuted last year at UIndy and soon will expand to Indiana University and Indiana State University. The program's second cohort of 35 fellows, representing school districts across the state, began their work this summer at UIndy.
The teaching fellowship program, which prepares career-changers and recent graduates to serve as STEM teachers in high-need schools, has been operating for six years at UIndy and also is offered at Ball State University, IUPUI, Purdue University and Valparaiso University, as well as colleges in four other states. The participating Indiana institutions are welcoming 49 new fellows this year, including 11 from UIndy.
Names and bios of the new fellows, along with a news release and other materials related to today's announcement, may be found at the Woodrow Wilson Foundation website.
For more on the two programs, visit:
www.uindy.edu/education/mba-education-leadership
www.uindy.edu/education/teaching-fellowship

A standing-room-only crowd awaits the introduction of the latest Woodrow Wilson education fellows today at UIndy. (click to expand)