Faculty Artist Concert Series returns to WICR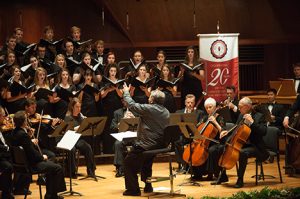 Good news: Our amazing faculty musicians are returning to our fabulous radio station.
After a brief hiatus, broadcasts of the Department of Music's Faculty Artist Concert Series will resume a weekly schedule at 1 p.m. Saturday on UIndy public station WICR-88.7 FM/HD. (The broadcast follows Hoosier History Live!, which airs at noon and this week features Associate Professor Laura Albright discussing women's voting rights.)
The concert recordings had been airing regularly for over a decade and weekly since 2009,  until earlier this year when the station restructured its schedule and programming provider Fine Arts Society shifted its focus under a new name, Classical Music Indy. Under the new arrangement, the shows will be produced by the WICR staff but still hosted by CMI program director and on-air personality Michael Toulouse.
"Until the new programs happen, we'll be be playing a few reruns, which certainly include some compelling performances," said Professor Richard Ratliff, coordinator of the Faculty Artist Concert Series. "The plan is eventually to include student ensembles and solo performances, broadening the scope to 'UIndy Concerts.'"
Saturday's broadcast will feature these selections and musicians:
Antonio Soler: Concerto No. 1 in C Major for two keyboards (Thomas Gerber, Marko Petricic)
Amy Beach: "A Hermit Thrush at Morn" (Rebecca Sorley)
Olivier Messiaen: "Le merle noir" (Tamara Thweatt, Rebecca Sorley)
Walter Piston: Trio No. 1 (Austin Hartman, Dennis McCafferty, Richard Ratliff)
Bobby Womack: "Breezin'" (Steve Weakley, Kevin Anker, Jonathan Wood, Art Reiner)
Charles T. Griffes: "The White Peacock" (Stephen Beus, from his recent CD release on the Harmonia Mundi label recorded at the Ruth Lilly Performance Hall)
The student-staffed WICR provides the only regular classical and jazz radio programming in central Indiana. Learn more here.