Institute helps clinicians transition to classroom
Preparing tomorrow's health care professionals requires putting experienced clinicians in the classroom, and that transition to academia can be difficult. Some UIndy faculty members, however, have banded together to address the issue on a national level.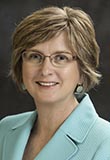 On Friday and Saturday, 20 physical and occupational therapists from as far as Texas, Maine and Georgia came to the UIndy campus for the inaugural Institute for Emerging Educators in Health Care, organized and presented by faculty from the College of Health Sciences and School of Education.
"As clinicians, we are experts in our field, but when we move into an academic role, there is a steep learning curve," said Assistant Professor of Occupational Therapy Julie Bednarski, one of the organizers.
Faculty from the schools of Occupational Therapy and Education obtained a UIndy InQuery grant in 2011 to begin planning the interdisciplinary collaboration. They developed material on learning theories, student engagement strategies, classroom technology and other relevant topics. The project team included Bednarski, Kate DeCleene Huber and Lori Breeden from Occupational Therapy; Angelia Ridgway, Donna Stephenson and Deb Sachs from Education; and Scott Lawrance from Athletic Training.
"The response was extremely positive," Bednarski said, noting that the participants included some who were simply considering a career switch and others who already had been teaching for a few years. "There is such a need to assist clinicians who are coming into academia that we feel it is very important we continue our efforts, and we are meeting next week to start our planning for next summer."