BlueIndy cars arriving soon on UIndy campus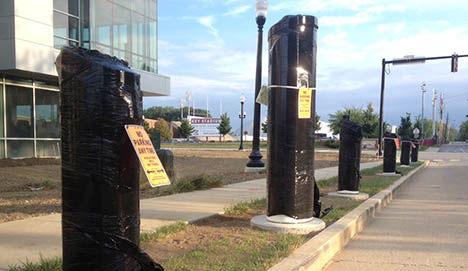 This BlueIndy electric car station at Hanna and State avenues is one of two scheduled to open this fall on campus, providing a convenient new transportation option for the UIndy community and its University Heights neighbors.
Like a scene from 2001: A Space Odyssey, mysterious black obelisks have appeared on State Avenue next to UIndy's new Health Pavilion. Do they represent some advanced alien technology?
Well, sorta. Still wrapped in plastic awaiting the official rollout on Sept. 2, the curbside devices comprise the University Heights neighborhood's first BlueIndy electric car rental and charging station, one of the initial 48 stations popping up around Indianapolis to provide a groundbreaking, environmentally friendly public transportation option for local residents, thanks to a partnership between city government and a French firm.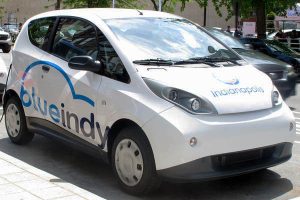 The State Avenue station should be complete within the next three weeks, according to Bob Briggs, BlueIndy's director of business development. A second UIndy station at Shelby and Hanna avenues, just south of the campus police station, should begin construction in the next two weeks and be complete about three weeks later.
The noiseless, emission-free compact cars can be rented and returned at any station in the city, carrying four passengers up to 150 miles on a single charge. On-board computers will provide information on navigation, available parking spaces, battery life and safety alerts. Membership plans range from single-day rentals (no money down, $8 for the first 20 minutes, 40 cents per minute thereafter) to one-year subscriptions at $9.99 per month ($4 for 20 minutes, then 20 cents a minute). BlueIndy plans eventually to construct 200 stations around the city.
Learn more about the BlueIndy service here.