Video: Volunteers greet largest freshman class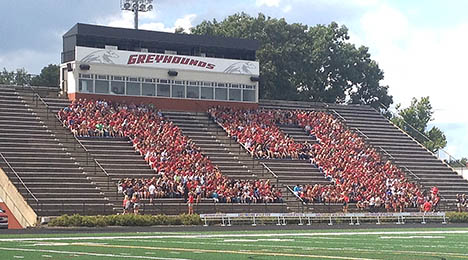 In what could become a new Move-In Day tradition, UIndy's newly arrived Class of '19 poses for a supersized group photo Wednesday afternoon at Key Stadium.
Watch WRTV report
Watch WISH-TV report
The largest and most academically successful incoming freshman class in University of Indianapolis history got a solid taste of Greyhound hospitality Wednesday during the annual tradition known as Move-In Day.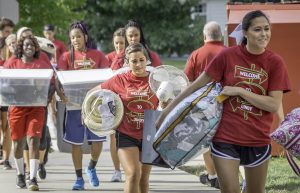 A red-shirted Movin' Crew of nearly 600 faculty, staff, student and alumni volunteers greeted the new students and their families on arrival, directed them to the appropriate parking lots, unloaded and labeled their belongings and deposited them safely in the new students' residence hall rooms, launching a busy schedule of Welcome Week activities on campus and throughout the city.
Although official numbers won't be available until September, the university projects a record-setting 960 freshmen this fall, hailing from 17 states and 15 nations. The class boasts 18 valedictorians, 10 salutatorians and an average high school GPA of 3.51, also a new UIndy record.
The afternoon convocation for new students and their parents featured remarks from 1996 economics graduate Krishnan Chandrasekhar, now a principal with financial services giant PricewaterhouseCoopers in Chicago. The day ended with "Midnight Madness" at the Southport Target Superstore, which opened from 11 p.m. to 1 a.m. exclusively for the new Greyhounds to do some last-minute shopping.
Move-In Day kicks off several days of activities designed to acquaint students with the campus, the city and one another, including a downtown Indianapolis scavenger hunt from 2 to 5:30 p.m. Saturday, organized in partnership with Indiana Humanities. The full Welcome Week schedule is here.
To sample the flurry of activity that is Move-In Day, check out this time-lapse video from outside Warren Hall: