Bookstore to host best-selling fantasy author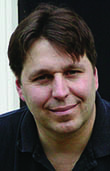 New York Times best-selling fantasy author R.A. Salvatore will read and discuss his work in a special event Wednesday, Sept. 2, at UIndy's Follett Bookstore.
Salvatore is perhaps best known for his Dungeons & Dragons-related book series The Legend of Drizzt, featuring dark elf Drizzt Do'Urden as protagonist, which has sold millions of copies worldwide. He is currently touring to promote his latest novel Archmage, the first in a new Homecoming Series.
The author will speak for about 30 minutes, then answer questions and sign copies of his books at the event, which begins at 7:30 p.m. Wednesday in the bookstore.
On a somewhat related note, this year's Kellogg Writers Series, presented by the Department of English, kicks off Sept. 14 with fiction writer Aaron Michael Morales. See the full KWS schedule here.