Library, Health Pavilion open for business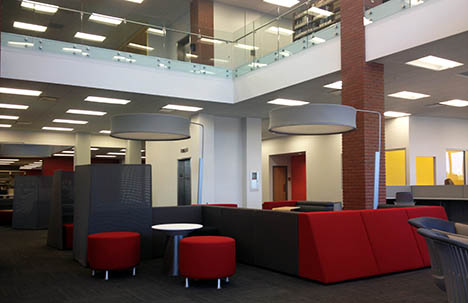 There's still a bit of cleanup and construction going on, but the UIndy Health Pavilion and the redesigned Krannert Memorial Library are officially open for business today, introducing two striking new campus landmarks on the first day of the fall semester. Both feature dramatic open spaces, lively colors and cool, contemporary furnishings.
Aside from their primary purposes, both structures also bring new gathering spaces for work and socializing, as well as convenient cafes, that are open to the entire UIndy community and visitors.
Starting Tuesday in the atrium lobby of the Health Pavilion, UIndy Dining Services will operate The Perk II, another "proudly serving Starbucks" coffee shop with a beverage and pastry menu much like The Perk in Schwitzer Student Center, and Greyhound Garden, offering healthy sandwiches, soup, sushi, snacks, drinks, fruit and a made-to-order fresh salad bar. The Perk II will be open 7:30 a.m. to 7 p.m. Monday through Friday, and Greyhound Garden will operate in the same space from 11 a.m. to 7 p.m. weekdays.
At Krannert Memorial Library, where exterior construction continues but the interior is open for use, The Perk III and the Sub Hub (with sandwiches, salads, fruit and snacks) are scheduled to open in mid-October.
Below are views of the lobby and cafe space in the UIndy Health Pavilion.