CELL announces new executive director
Boyle brings broad experience in education policy, statewide initiatives
An experienced education administrator and policy advocate has been named executive director of the Center of Excellence in Leadership of Learning at the University of Indianapolis.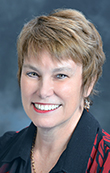 Janet Boyle joined CELL as assistant executive director in 2011 and has served as acting executive director since 2014. She replaces David Dresslar, who recently retired from the university.
Boyle served previously as assistant superintendent for curriculum and instruction in the Center Grove Community School Corp. and assistant principal for curriculum and professional development at Ben Davis High School.
At CELL, her work has included leading the statewide Early College initiative, supporting an innovative high school model that allows underserved students to earn an associate's degree or up to two years of bachelor's degree credit while earning a high school diploma. In the past four years, CELL has trained more than 80 teams from high schools and career technical education centers on implementing the Early College model. Twelve high schools have now completed CELL's endorsement process for high quality Early College implementations, and 50 Indiana counties now have Early College initiatives in development.
Boyle also led the creation of the STEM Teach initiative, a partnership with the Independent Colleges of Indiana that supports private universities in offering certification and increasing the number of highly qualified science, technology, engineering and mathematics teachers for Indiana schools.
As executive director of CELL, Boyle will continue to oversee strategic planning, staffing, budgeting, advocacy, school and government relations and other statewide initiatives that include the Education Workforce Innovation Network and the TAP System for Teacher & Student Advancement. She will report to UIndy Executive Vice President and Provost Deborah Balogh.
"Dr. Boyle is widely respected in education and policy circles and already has proven her abilities in overseeing some of the state's most comprehensive and innovative school improvement efforts," Balogh said. "Under her continued leadership, I am confident that CELL will remain a prominent force in creating better educational outcomes for Indiana students."
Boyle holds a Ph.D. in secondary education curriculum and instruction, a master's degree in educational administration and a bachelor's degree in English, all from Indiana State University. She lives in the Greenwood area.
About the Center of Excellence in Leadership of Learning
Created in 2001 at the University of Indianapolis, CELL is a leading convener, catalyst and collaborator for dynamic, innovative education change to improve student achievement throughout Indiana. CELL's efforts are rooted in the principle that all students, regardless of background, should graduate from high school prepared for postsecondary education, training and success in the 21st-century global economy. More information is available at cell.uindy.edu.