Housing agency to open branch near campus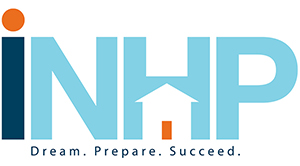 The Indianapolis Neighborhood Housing Partnership, which revitalizes neighborhoods by helping families become and remain long-term homeowners, is opening a new branch adjacent to the UIndy campus.
The new INHP South office will open in early October at 1414 National Ave., in a house leased from the university. The nonprofit organization's arrival aligns with UIndy's strategic plan, which calls for new development and partnerships that enhance quality of life not only for the campus community but also for neighbors in the surrounding area.
Established in 1988, INHP provides services and resources designed to help families prepare their finances to qualify for a mortgage, navigate the home-buying process and choose a lender and mortgage they can sustain over the long haul. The group also helps homeowners obtain affordable financing to make essential repairs, accessibility improvements and energy efficiency upgrades.
The stronger presence in southern Marion County will enable INHP to reach an estimated 1,300 more families during the next three years. Read more about the new branch here.
In addition to opening the new office, INHP is participating in other nearby neighborhood development initiatives, including a project to refurbish vacant and neglected properties in the Garfield Park area. More information is available at www.inhp.org or (317) 610-HOME.