Series opener to feature Leppard, premiere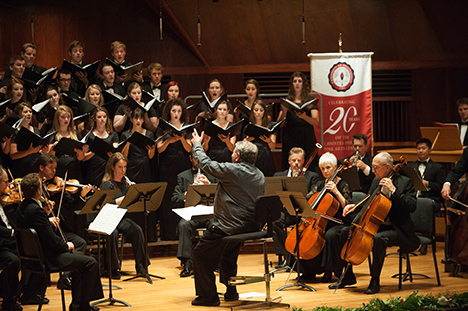 Artist-in-residence Raymond Leppard conducts the UIndy Festival Orchestra and choral ensembles during the 2014 Faculty Artist Series opening concert.
John Berners' Sinfonia honors international philanthropist Christel DeHaan
The University of Indianapolis Faculty Artist Concert Series will open its 2015-2016 season Sept. 21 with a gala performance featuring Indianapolis Symphony Orchestra conductor laureate Raymond Leppard and the premiere of a composition honoring Indianapolis-based philanthropist Christel DeHaan.
The music will begin at 7:30 p.m. in UIndy's Christel DeHaan Fine Arts Center, which opened in 1994 with generous support from DeHaan, a former UIndy student who served many years on the university's Board of Trustees. Leppard has served as artist-in-residence at the center since its opening.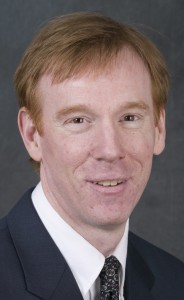 As announced at the 2014 opening gala, which celebrated the center's 20th anniversary, the university commissioned a piece honoring DeHaan from Associate Professor John Berners, who teaches composition in UIndy's Department of Music. Berners' works have been performed by the Indianapolis Chamber Orchestra, Ronen Ensemble, the Detroit and Virginia symphonies, Kiev Philharmonic, Boston Symphony Brass and Germany's Ensemble SurPlus, and at such festivals as Tanglewood, the Missouri New Music Festival and Switzerland's Music X.
Berners describes his new work, Sinfonia, as an "inclusive, celebratory piece" for a small orchestra, which in this case will comprise 25 professional musicians from the UIndy faculty and the ISO, some of whom also teach at the university. Along with the standard strings, woodwinds and percussion, the lineup will include several instruments that are not typical of a classical orchestra but are specialties for various UIndy faculty members, such as alto saxophone, electric piano, bayan accordion, handbells and Baroque flute. Styles and moods shift throughout the 10- to 11-minute composition.
"You might call it a musical collage with elements of different styles of music that are represented at UIndy," Berners says. "The idea is to celebrate the space that we work in and the faculty who perform here."
The program also will feature music of Mozart and Vivaldi, with performers including the UIndy Festival Orchestra and choral ensembles, pianist Richard Ratliff, soprano Kathleen Hacker and mezzo-soprano Mitzi Westra.
DeHaan, among other interests, is the founder and president of the Christel DeHaan Family Foundation, which supports arts and culture in central Indiana, and the founder and CEO of Christel House International, which provides education and other assistance to impoverished children around the world.
Now beginning its 35th season, the Faculty Artist Concert Series is a unique fixture on the central Indiana arts scene, presenting historic and contemporary classical and jazz music free of charge in the elegant and acoustically superior setting of the DeHaan Center's Ruth Lilly Performance Hall. This year's 18 concerts, taking place Monday nights from September to April, will feature UIndy's distinguished Department of Music faculty as well as guests drawn from the ranks of local and national professionals.
More information on the series is available at (317) 788-3255 or www.uindy.edu/arts.