Oct. 4 concert to feature Chinese musicians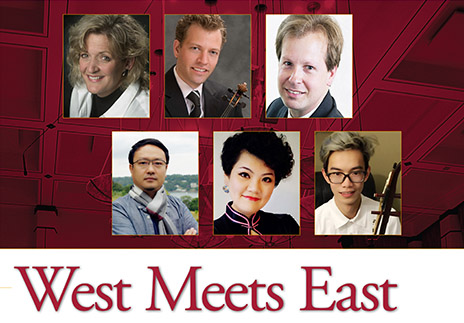 Visiting Chinese musicians will collaborate with UIndy music faculty Oct. 4 in a concert to promote cross-cultural exchange and understanding.
The "West Meets East" event will begin at 3 p.m. that day — the Sunday of Homecoming weekend — in the Christel DeHaan Fine Arts Center. Admission is free, and L/P credit is available for students.
The program will include folk and classical music from both Eastern and Western traditions, as well as original music composed especially for the event.
The performers from China's Shanghai Normal University, a UIndy sister institution, will be folk singer Sophie Zhao and electroacoustic music composer Shen Lin. UIndy student Penwin Wang of China will perform on the erhu, a bowed string instrument.
Performers from the UIndy faculty will include soprano Kathleen Hacker, violinist Austin Hartman and pianist Gregory Martin.
The event is sponsored by University of Indianapolis Asian Programs and co-sponsored by the UIndy Department of Music, the Music Technology Department of Shanghai Normal University's Music College, Indianapolis Hakka Association, Indiana Association of Chinese Americans, Asian American Today, Indy Asian American Times and the University of Indianapolis-Ningbo Institute of Technology joint program at Zhejiang University.
For more information, contact Dr. Phylis Lan Lin at lin@uindy.edu or (317) 788-3288.