Open Mic events bring Inclusion & Equity discussion to the forefront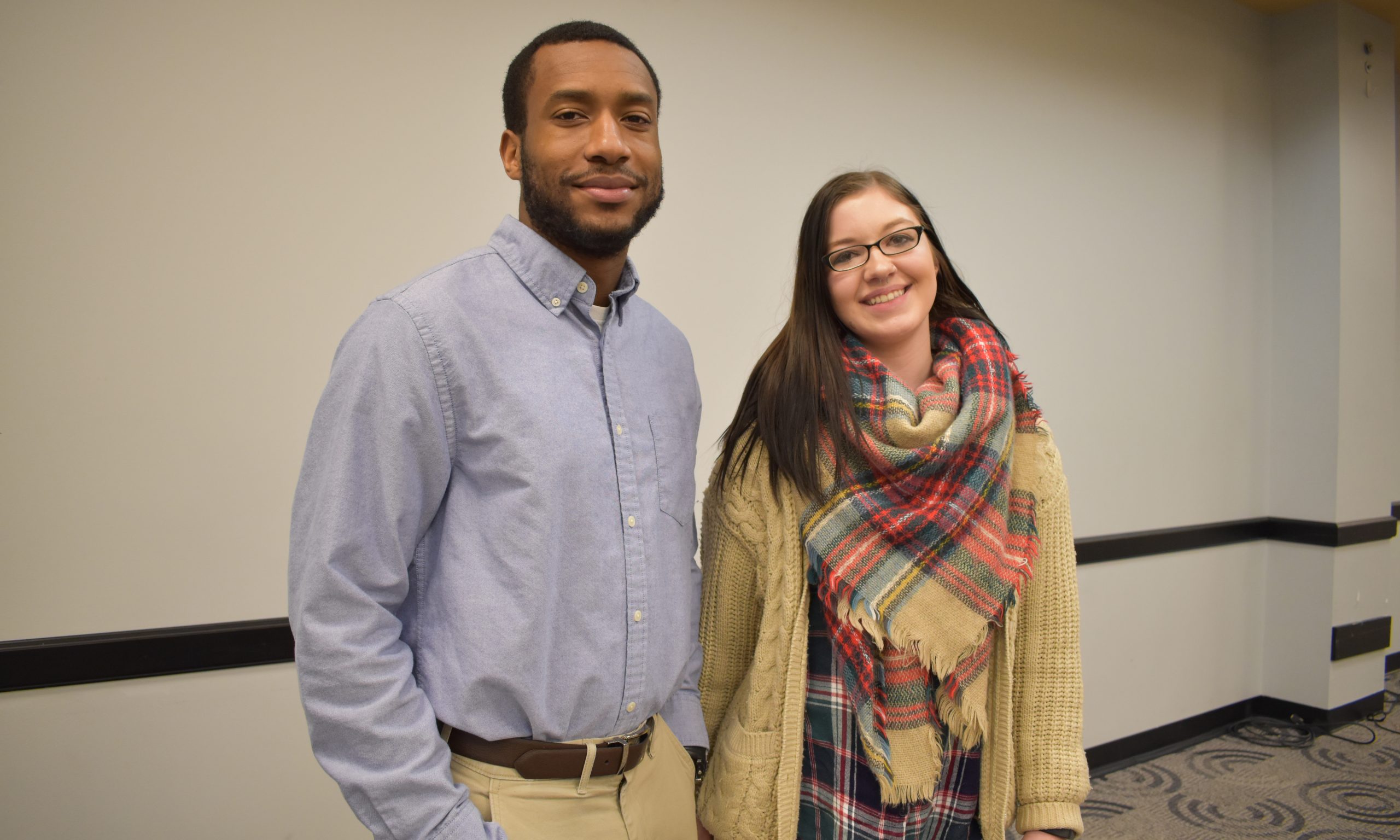 The Office of Inclusion & Equity (OIE) recently hosted the first of a new series of Open Mic Dialogue Sessions designed to help students better understand the value of intercultural engagement, civil discourse and constructive activism.

Larry Haynes ''18 (M.A., mental health counseling) and Jennifer Reeder ''20 (Master of Social Work) (pictured above), coordinate the OIE Ambassador Program and provide guidance for Open Mic events. OIE Ambassadors lead and facilitate the sessions, which follow ground rules such as establishing a "judgment-free zone" to encourage students to share thoughts on the discussion topics and to be open to a variety of opinions.
The goal of the discussions, which continue throughout the spring semester, is to help students develop in the areas of intercultural engagement, civil discourse, cultural fluency, social justice and constructive activism.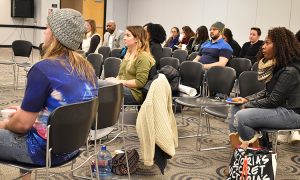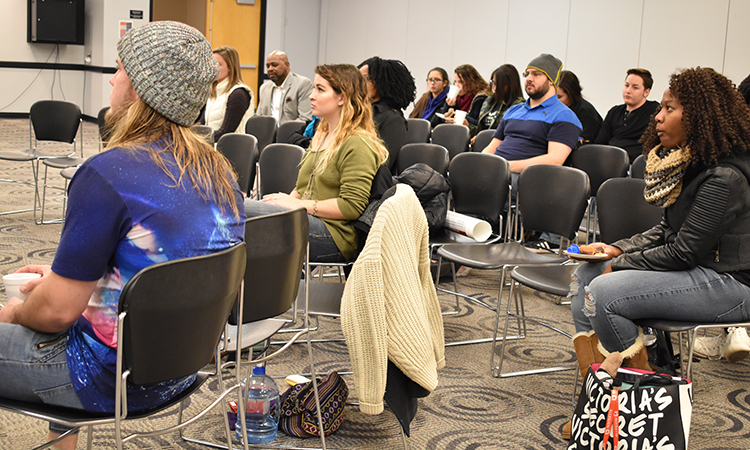 OIE Student Ambassadors led the discussion about sexual harassment in the news during the first Open Mic session. The dialogue explored several important themes, while the "open mic" format ensured the inclusion of all identities and perspectives, Haynes explained.

""We want students to understand that it''s okay to disagree,"" Haynes said.

One participant noted how important it was to keep progress going by having conversations with family and friends – even on difficult topics. Rather than avoiding a political discussion, another participant said, "The conversation needs to be had. You need to make it known what you believe in."

Reeder said those themes reflect her own goals as an intern for the Office of Inclusion & Equity. As part of those duties, Reeder and Haynes also will coordinate a group of Inclusion & Equity Ambassadors who will host additional events throughout the year.

""I became involved with this office because university is a starting point for many individuals in growth and knowledge with many social issues. I want to be a part of other students' knowledge base in social and political debate,"" Reeder said.
As the University''s student body grows more diverse, Haynes emphasized the focus on recognizing the benefits of open dialogue.
""My goals for this program is that it becomes a premier campus program that will attract impressive and committed undergraduate students of diverse backgrounds,"" Haynes said. ""The skills learned from this program will be skills needed to be competitive in a changing, global workforce.""

Sean Huddleston, vice president for the Office of Inclusion & Equity, said the student-led initiative was by design.

""Our interns are developing effective leadership and communication skills as they create an inclusive environment for other students to participate in these discussions. They''re helping to set the standards as we work toward equitable outcomes,"" Huddleston said.

Reeder and Haynes encouraged more students to join the discussion. Some topics will be predetermined and others will be in response to current equity and inclusion related events occurring locally, nationally, and globally. A survey will be distributed after each event.
""I would say to students that if they want to be a part of a program committed to shedding light on issues surrounding social justice while enhancing their own experiences and perspectives then they should definitely consider joining us,"" Haynes said.
Reeder added, ""I''m beyond excited for this program to take off and see what our students can genuinely do with their time and compassion.""