Partners celebrate Health Pavilion opening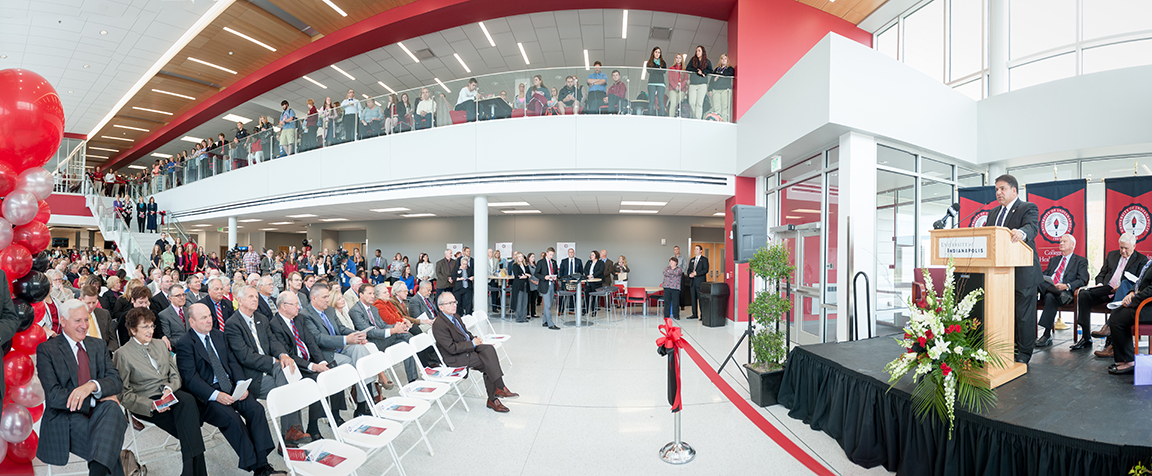 Not one, but four ribbons were cut Friday when hundreds of students, faculty, staff and community partners gathered for the dedication of the UIndy Health Pavilion, a cutting-edge space designed for innovative collaborations among academic disciplines and health care industry professionals.
"We started dreaming about this building about 18 months ago, and in the architects' rendering, they had this room filled with people," President Robert Manuel said, glancing around the crowded two-story atrium as onlookers lined the balcony rail. "I don't believe any of us thought we'd be done in 18 months to be here today, but it's really pretty powerful to look out and see it done, filled, and doing what it was built to do."
The four-story, 160,000-square-foot, $28 million structure at Hanna and State avenues now houses UIndy's nationally respected programs in nursing, psychology, physical therapy, occupational therapy, gerontology, kinesiology, athletic training and social work, The building also houses two clinical facilities opening this month in partnership with Community Health Network: a health and wellness clinic for faculty, staff and students; and the latest addition to CHN's growing line of Community Physical Therapy & Rehab centers, bringing new services to the University Heights neighborhood.
UIndy faculty and students will collaborate with Community Health Network professionals on patient care, education and research, and the partnership also includes an increasing number of internship and clinical opportunities for students at Community Health Network sites throughout central Indiana.
After an invocation from Bishop Mike Coyner of the Indiana Conference of the United Methodist Church, Friday's event included remarks from Tom Martin, chair of UIndy's Board of Trustees; Dr. Deborah Balogh, UIndy's executive vice president and provost; Gene Zink, president and chairman/CEO of project developer Strategic Capital Partners; and Anthony Lennen, president of Community Health Network South Region.
"This partnership exemplifies the new era of collaboration between academia and health systems that has the potential to solve many of the problems facing the health industry, but I think more importantly, society in general," Lennen said. "This collaboration can add value to the health system that's been sorely missing."
After the multi-stage ribbon cutting, representing the many entities collaborating in the space, the building was open for tours of its clinics, classrooms, labs and meeting spaces.