Art student helps exhibition 'Keep It Simple'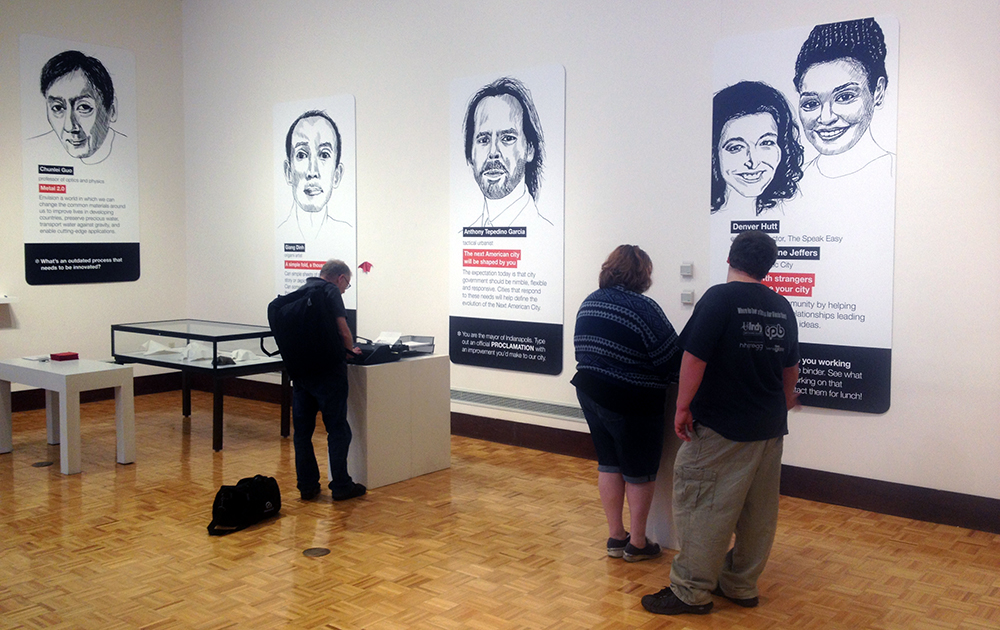 Visitors check out the new interactive exhibition in the Christel DeHaan Fine Arts Center Gallery while awaiting the start of Monday's opening reception.
A UIndy alumnus and current graduate student contributed his artistic talents to Keep It Simple, the new exhibition mounted in the Christel DeHaan Fine Arts Center Gallery in conjunction with the upcoming TEDxIndianapolis conference.
Kevin Moran, a full-time graphic designer for TF Publishing, earned his Bachelor of Fine Arts through UIndy's Department of Art & Design and is now pursuing his Master of Arts degree. He was tapped by department Chair James Viewegh to draw portraits of the 16 speakers scheduled for the conference, which takes place Oct. 20 in DeHaan Center.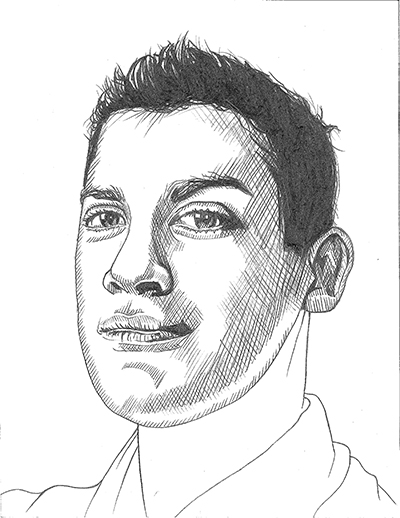 The exhibition, which opened Monday and runs through Oct 30, features 16 corresponding interactive stations designed by the local Big Car arts collaborative, lead organizer of TEDxIndianapolis. Each station depicts the speaker's presentation topic and asks viewers to write statements or take some other action to address the point from their own perspectives.
Given that "Keep It Simple" is also theme for the conference, Moran followed that advice, crafting black and white sketches with graphite pencils on Bristol paper that were then replicated on larger sheets for display. He used photos of the speakers and read their bios to guide the work.
"We wanted to do something that wasn't abstract, but the simplest rendition of how you could picture the speakers," Moran said. "It's linear, and all the shading effects are done with cross-hatching. It's pretty much the most fundamental depiction of a face that you can do."
The interactive stations are fun and intriguing. For tech entrepreneur Chris Baggott, whose TEDx topic is "The simplest way to feed the world" the station provides pen and paper for visitors to answer, "What's the last locally raised food item you ate? Describe it in words or draw a picture." For composer Pauline Oliveros, whose topic is "The difference between hearing and listening," the station features a cassette recorder and asks viewers, "What is a sound you love? Try to imitate the sound, with your voice, into the tape recorder below."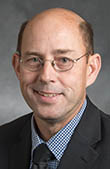 Moran, who focuses his own art pursuits on public projects that build community and support youth development, is grateful to Big Car and especially to Viewegh for the opportunity to get involved.
"He has been my mentor for quite some time," Moran said. "He's one of the reasons I chose to come back to UIndy."