Alum to discuss sports performance career
A UIndy graduate who has developed a successful business as a sports performance coach will visit campus Tuesday to discuss his work.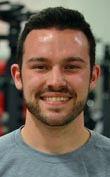 Nick Brattain earned his Exercise Science degree in 2011 and now owns New Orleans-based Brattain Sports Performance, with clients ranging from high school and college athletes to pros such as longtime Indiana Fever star Katie Douglas and the NBA's Eric Gordon, who helped the New Orleans Pelicans reach the playoffs last season.
"Besides keeping me healthy during the season, Nick is in charge of all of my off-season training," Gordon says in a testimonial at www.brattainsportsperformance.com. "He is great at keeping training fresh and using new technology to track my progress and performance throughout the program. I believe that Nick's training has and will continue to keep my body healthy and in the best shape for each season."
Presented by UIndy's Kinesiology Club with support from the Professional Edge Center, Brattain will speak at 9 p.m. Tuesday in the new UIndy Health Pavilion's R.B. Annis Auditorium. His presentation, "Sports Performance: Begin Developing Your Career Now," is aimed at students with interests in the field, but is open to all.
"Nick sought me out and wanted to come to UIndy to give back while he was in town visiting his family," said Mindy Mayol, assistant professor of Kinesiology.
As a track athlete at UIndy, Brattain was a 200/400-meter sprinter who claimed three NCAA All-American titles and six GLVC indoor/outdoor titles. After graduating, he worked three years with IU Health Sports Performance before forming his own company in 2014.
More information on the Department of Kinesiology's Exercise Science major is here.