Mark Weigand to retire after 38+ years of service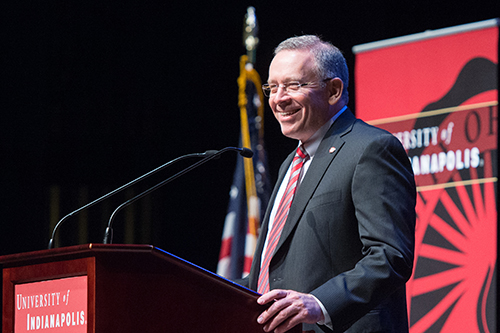 After more than 38 years of service to the University of Indianapolis, Mark Weigand, executive vice president for campus affairs and enrollment services, has shared his plan to retire in June 2018.
Message from President Rob Manuel:
Mark has served as an architect of the University's enrollment and financial aid programs that have produced records in each of the years he has been in office. This remarkable set of accomplishments has significantly contributed to our environment for recruiting students and our ability to be competitive in ways where other institutions are struggling. His nearly four decades of University service highlight successes that are the envy of many institutions across the Midwest who are struggling with enrollment. In recent years, such efforts have required a marshaling of the entire University community to recruit our students. These efforts have been recognized with distinction including a 2014 Distinguished Faculty/Staff Alumni Award and the 2002 Indiana Association for College Admission Counseling.
The University and the previous four presidents have been fortunate recipients of Mark's strategic administrative and enrollment acumen. Some of you may be aware that following his time in the military, Mark arrived at the University of Indianapolis to earn a degree and shortly after, began his career in student affairs and enrollment management. Mark has been an incredible colleague to so many, and his fingerprints are seen on all of the major University accomplishments over the past nearly four decades. He has led a team of professional, hard-working individuals who are focused on making it possible for individuals, many who are first-generation, to earn a University of Indianapolis degree. 
To me personally, Mark has been a wonderful consultant to the changes we have made over the past five years. I have relied heavily on Mark – and will miss his guidance, energy and creativity. He has also provided much needed institutional memory and connected our decisions to our mission and tradition. 
Mark told me that his retirement will be a time of pursuing some of his hobbies, spending time with his family, and doing more volunteer work with the non-profits he has been involved with over the years. No doubt Mark and his daughter, Kate, will remain a part of our University family for years to come.
 As a University community, we will have a number of opportunities to recognize and celebrate Mark. These details will be shared with you in upcoming messages. In the meantime, Mark and his team are focused on the students who will join our UIndy community in Fall 2018.
For now – please join me in congratulating Mark on an exceptional career, and wishing him the best of luck as he transitions to retirement over the next semester.