Holocaust survivor Eva Kor to speak Nov. 3
Founder of CANDLES museum continues work for human rights
Eva Mozes Kor, the Auschwitz survivor who became an internationally known advocate for forgiveness, will share her story Nov. 3 at the University of Indianapolis.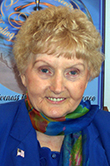 The presentation, "Remembering the Holocaust," will begin at 7 p.m. in Schwitzer Student Center's UIndy Hall and will conclude with a Q&A session and book signing. The event is UIndy's annual Interfaith Lecture, presented by the Office of Ecumenical & Interfaith Programs and the University Series. Admission is free, but advanced registration is recommended; click here to register.
Born Jewish in a small Romanian village, Kor and her family were sent to the notorious Auschwitz concentration camp in Poland, where her parents and two older sisters perished. She and her twin sister, Miriam, were subjects of Josef Mengele's medical experiments and among the few who survived to be liberated by Soviet troops. She immigrated to Israel, where she attained the rank of sergeant major in the Israeli Army Engineering Corps and met American tourist and fellow survivor, Michael Kor. The two married in 1960 and moved to the United States, settling in Terre Haute.
In 1984, Kor and her sister founded Children of Auschwitz Nazi Deadly Lab Experiments Survivors, or CANDLES, an effort to reunite and build connections among surviving Mengele twins around the world. In 1995, Kor founded the CANDLES Holocaust Museum and Education Center, which was firebombed and destroyed in 2003 only to reopen two years later with significant local and national support to continue educating thousands of visitors.
Kor has returned many times to Auschwitz and continues to give tours of the museum and make public presentations, often to schoolchildren. She also worked with state legislators on a law that requires Holocaust education in Indiana secondary schools.
Sometimes stirring controversy with her public expressions of personal forgiveness toward the Nazis, she stands behind those statements.
"Anger is a seed for war," she has said. "Forgiveness is a seed for peace."
More information on the event is available at (317) 788-2106. More information on Eva Kor and the museum is available at www.candlesholocaustmuseum.org.