Community Partners Fair offers service-learning opportunities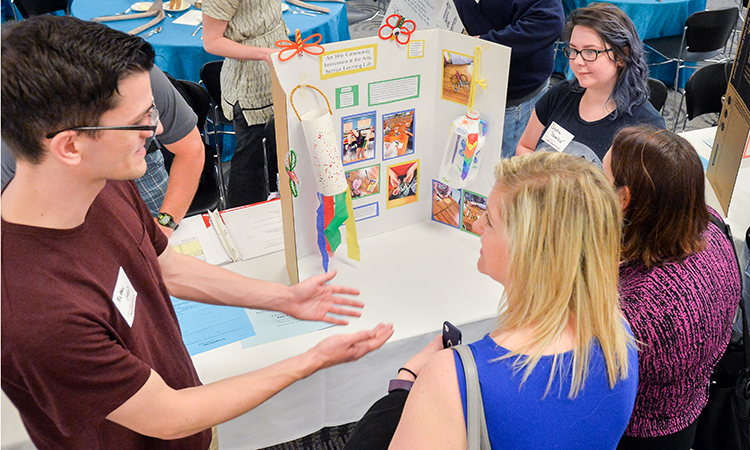 The Community Partners Fair held twice a year at the University of Indianapolis is a chance for students, faculty and staff to network and explore service-learning and other community projects with local and national  nonprofit agencies.

The 2018 fall fair takes place Aug. 29, and Sept. 5-6. There is no need to register in advance. The fair will be held from 11 a.m. to 1 p.m. at the Schwitzer Student Center in the Engagement Space on Aug. 29 and Sept. 5, and in the Health Pavilion Sept. 6.
Marianna Foulkrod, director of the University''s Center for Service-Learning and Community Engagement, said the fair is open to all academic units and offers a broad mix of agencies from various fields each day, noting that Sept. 6 will be devoted to health-related agencies.
Partners listed here are subject to change.
Wednesday, August 29, 2018: 11 a.m.- 1 p.m. Schwitzer Student Center
Partners: Art With a Heart; Best Buddies Indiana; Catholic Charities Indianapolis Refugee & Immigrant Services; HVAF of Indiana, Inc.; Indianapolis Animal Care Services; Indianapolis Zoo; Indy Irish Fest; Indy Reads; Intercollegiate YMCA; Joy's House; Make-A-Wish Ohio Kentucky and Indiana; Teachers' Treasures; Westminster Neighborhood Services; YMCA of Greater Indianapolis; Youth Global Perspectives, Inc
Wednesday, September 5, 2018: 11 a.m.-1 p.m. Schwitzer Student Center
Partners: 500 Festival; Boys & Girls Clubs of Indianapolis; Brooke's Place for Grieving Young People; Indiana Reading & Information Services (IRIS Radio); John Boner Neighborhood Centers; Joseph Maley Foundation/Joseph Maley Fitness; New Hope of Indiana; ProAct; Rebecca's Garden Of Hope Tutoring Program; School on Wheels; The Children's Museum of Indianapolis; The Damien Center;Wheeler Mission
Thursday, September 6, 2018: 11 a.m. – 1 p.m., Health Pavilion, Lobby Area  **Note: this date is specific to our health care-related partners.
Partners: Cancer Support Community Central Indiana; Center for At-Risk Elders; Down Syndrome Indiana, Inc.; Heartland Hospice;  Indy Hunger Network: Cooking Matters Program; Noble, Inc.; Tangram (more to come)
Faculty who teach courses that engage students with the community, either through service-learning or project-based learning, are highly encouraged to stop by and meet our partners, as they are always ready to discuss collaborations. Please also recommend to your students that they attend. These events can provide great resources and connections for them.
For faculty, the fair offers a chance to network with diverse agencies as they consider ways to integrate service-learning and collaborative community engagement into their curriculum.

""They can learn about the most current social issues that our communities are dealing with,"" Foulkrod said. ""In exploring and learning, they get ideas about how they can use service-learning as a teaching methodology.""

For students, the fair not only offers the potential to fulfill a course requirement for service-learning but also allows for exploration of service projects for Registered Student Organizations or athletic teams, volunteer experiences, and other engagement opportunities through service.

""Community Partner Fairs are a great way for students and faculty to learn more about the plethora of amazing community partners connected to UIndy and how these organizations have been involved with UIndy for many years. It has allowed me to understand the unique mission of each of these partners and what great work they provide for the community,"" said Julie Gahimer, professor of physical therapy.
Organizations working with youth, people with disabilities or in areas like domestic violence or homelessness are just a few examples of past fair participants. At a service-learning fair in 2017, Deb Strickler, recreational therapist at the Southern Indiana Rehab Hospital's Stroke Camp, said UIndy's students serve a critical need by working with participants through the duration of the camp.
""We''ve been partners for over 10 years, and UIndy is a vital part of the program,"" Strickler said.

Through the University''s service-learning mission, students learn critical job-related skills as they build a tradition of giving back to the community (Education for Service). Tia Schrader (''18, physical therapy) learned to appreciate the full lives that the stroke survivors she worked with were striving to regain.
""Volunteering at the camp has given me the perspective that there's much more that patients want to do as they return to the community,"" Schrader said.

Ahsleigh Coster, program director for the Intercollegiate YMCA–another UIndy community partner–points to the impact the partnership has made on youth and families living in the Laurelwood public housing community, located near campus in the University Heights neighborhood. Through collaboration with faculty and students on service-learning classes and a work-study program, Coster said UIndy students have been actively involved in planning and implementing activities during a free afterschool program for children, among other activities.

""We are so lucky to partner with the University of Indianapolis, and I have been so amazed at how much the Laurelwood community has benefited from it as well.  We have watched this neighborhood transform and thrive through the work that each UIndy student gives every semester,"" said Coster.

Foulkrod encouraged faculty to use the Center for Service-Learning and Community Engagement as a resource to discuss how to match community needs with learning goals for their students. (Contact Marianna Foulkrod via email at mfoulkrod@uindy.edu or call 317-788-3546)
Past and present UIndy service-learning community partners include:
  

Back on My Feet Indianapolis

  

Brownsburg Meadows

  

Camp Possability

  

Camp Healing Tree

  

Center for Courageous Kids

  

Damar Services

  

Dayspring Center

  

Easter Seals Crossroads

  

Freewheelin' Community Bikes

  

Great Lakes Burn Camp for Kids

   Intercollegiate YMCA

  

Joy's House

  

Julian Center Domestic Violence Shelter

  

Outreach Inc.

  

Retreat and Refresh Stroke Camp

  

Rehabilitation Hospital of Indiana Sports Program

  

Second Helpings

  

Shepherd Community Center

  

Southern Indiana Rehab Hospital Annual CVA Camp