Greyhound Village offers glimpse inside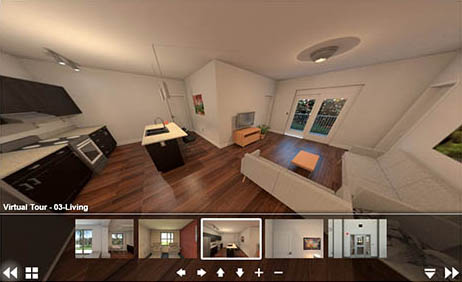 This virtual tour provides a peek into five simulated spaces at Greyhound Village, which opens next year at the corner of Shelby Street and National Avenue. A partial model apartment is available for viewing in Schwitzer Student Center.
Reservations for 2016-2017 accepted now with no deposit required
You can see its four-story frame rising at the northwest corner of campus: Greyhound Village, a new kind of residential option to meet the needs of nearly 500 UIndy juniors, seniors and graduate students.
Scheduled to open in late summer 2016, the furnished 1- to 4-bedroom apartments will combine the best of on-campus and off-campus living for students who appreciate privacy and such amenities as private bathrooms, in-unit kitchens and laundry appliances, balconies and patios, a fitness center, indoor and outdoor lounge and recreation areas, and access to UIndy cable and Internet services, among other features.
Though the construction site is still a hardhat area, there are two ways to get an advance taste of life in Greyhound Village. One is an online virtual tour that provides interactive, 360-degree views from within 3D renderings of the main lobby, the fitness center, a living room, a bedroom and a common area with seating and game tables. Check it out here, and right-click on the tour window for a variety of viewing perspectives ("Architectural View" is recommended).
For a hands-on experience of the Greyhound Village decor, visit the model kitchen and living space in Schwitzer Student Center, located behind The Hub near the ping-pong and pool tables. Marketing Manager Zach Brown staffs the area from 8:30 a.m. to 1:30 p.m. each weekday, signing up prospective tenants for more information and showing off the granite countertops and sleek furniture.
For a limited time, interested students can reserve a preferred space at Greyhound Village for 2016-17 with no deposit and no obligation. Beginning in November, official housing agreements will be offered in the order reservations were received. Click here for details.
Designed by architects Schmidt Associates to replace the now-vanished Campus Apartments, Greyhound Village is a joint venture between UIndy and developer Strategic Capital Partners. Monthly rates and other information are available at greyhoundvillage.com.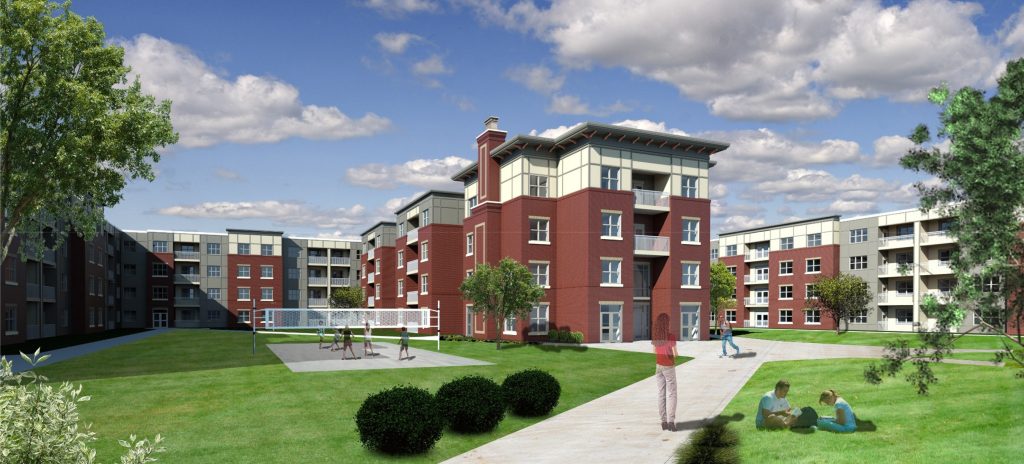 The four-story Greyhound Village will enhance the Shelby Street corridor while providing residents with easy access to public transit options planned in the area, including a BlueIndy car-sharing station opening later this year and a bus rapid transit line that could operating as soon as 2018.