Athletic Training prof named to Hall of Fame
The faculty of UIndy's Athletic Training Program must be doing something right – they keep getting named to the Indiana Athletic Trainers Association Hall of Fame.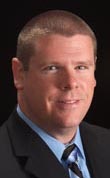 Dr. Scott Lawrance, assistant professor and clinical education coordinator for the program, will be the latest to receive the honor Sunday at the Annual IATA Fall Symposium in Muncie.
"It's one of those humbling experiences," said Lawrance, also a UIndy alumnus who earned his Master of Science and Doctor of Health Sciences in Physical Therapy in 2003 and 2010, respectively. At 39, he is the youngest state inductee to date.
"I recognize the responsibility of it," he said, already having served 12 years on the IATA board and two years as its president, helping to pass legislation, create new partnerships and increase services to members. "It's a responsibility to uphold that for the rest of my career."
About 50 professionals have been named to the state Hall of Fame, and four of them are currently active at UIndy: Lawrance, head athletic trainer Ned Shannon (inducted 2011), emeritus department chair Connie Pumpelly (2012) and Assistant Professor Craig Voll (2014).
"It's more evidence of the prominence of the health professions here at the University of Indianapolis," said Lawrance, a North Webster native and Wawasee High School graduate who also serves as UIndy's assistant athletic trainer.
At Sunday's banquet, he will be introduced by his wife, Megan (Pearl) Lawrance, who earned her UIndy bachelor's degree in Athletic Training in 2003. They live in Plainfield and have two children.
"My kids will be there, and the rest of my family," he said. "That's going to be really sweet."
UIndy's Athletic Training Program, a division of the College of Health Sciences, is among the largest in the state with about 60 undergraduate majors, and it soon will transition to a master's level program. Read more about the current program here.