Alum to discuss role in major fossil discovery
Zachary Throckmorton, part of team that identified new hominin species Homo naledi, will return to campus Nov. 19 for a public presentation
The University of Indianapolis will welcome back one of its graduates Nov. 19 to discuss his role in a recent scientific breakthrough: the identification of a previously unknown ancient relative of modern humans.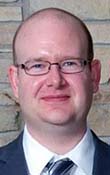 The announcement in September of a new species of hominin – Homo naledi, whose fossilized remains were found in a South African cave – made headlines around the world. Zachary Throckmorton, who earned his UIndy Master of Science in Human Biology in 2007 and now teaches anatomy at Tennessee's Lincoln Memorial University, was among the select international group of scientists who were invited to study the specimens and co-author the first published analyses.
Throckmorton's presentation, "Homo naledi Strides Again," is scheduled 5 to 6:30 p.m. Nov. 19 in UIndy Hall A of the university's Schwitzer Student Center, 1400 E. Hanna Ave. The University Series event is presented with support from the Blanche E. Penrod Lecture Series and organized by the FOUND and ARCHAIC student organizations for forensics and anthropology.
Admission is free and open to the public. Attendees are asked to register in advance at homonaledi.eventbrite.com.
Homo naledi apparently interred the bodies of its dead, a practice once thought exclusive to modern humans, and it was built to walk upright, according to Throckmorton, a specialist in human gait and the development of the lower extremities. Other characteristics, however, are distinctively different from today's anatomy.
"The part that I work on, the foot and ankle, is very modern," says Throckmorton, who wrote on the topic for the journal Nature Communications. "Whereas, say, the shoulder joint is not modern-like at all, and anyone can see the differences."
His lecture will explore
The Homo naledi fossils were first uncovered in 2013 in a cave known as Rising Star near Johannesburg, South Africa, on expeditions led by Lee Berger, a research professor at the nearby University of the Witwatersrand. Throckmorton got involved by responding to a public call for up-and-coming scientists with particular specialties to join in the analysis of the specimens.
Selected from hundreds of applicants, Throckmorton spent six weeks during the summer of 2014 and another three weeks this spring participating in the Rising Star Workshop at University of the Witwatersrand's Evolutionary Studies Institute, helping to describe what had been found. The enormity of the discovery was overwhelming.
"It was very quickly apparent that we had over 1,500 different identifiable bones and that this was a fossil assemblage that was completely unprecedented in the African hominin fossil record, and it became fairly clear about a month into the workshop that we were dealing with a previously undescribed species," he said. "Every once in a while there's a remarkable discovery or development in the field that provides an enormous amount of new data that is really exciting for everyone in the field to start considering. If you had told me in 2004, 'Hey, you'd better get back to studying because in a decade you're going to have an opportunity to describe a new species of the genus Homo,' I would have said 'Yeah, sure.'"