Anti-violence activist pastor to speak Tuesday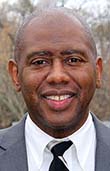 The Rev. Charles R. Harrison, president of the Indianapolis Ten Point Coalition and a leading voice against violent crime in the city, will speak Tuesday night at UIndy.
His talk, "From Violence to Community: The Ten Point Coalition Against Racial Violence," will begin at 8 p.m. in Schwitzer Student Center's McCleary Chapel. The appearance is sponsored by the Office of Ecumenical & Interfaith Programs and organized by sophomore Hannah Jones, the current student chapel steward for Devotion and Justice.
"When we had our event planning meeting for this semester, we decided that racial violence was a topic that really needed to be addressed this year," said Jones, who worked with Co-Chaplain Lang Brownlee on the event. "Rev. Harrison will be speaking about what racial violence is, why it is an issue, and what we can do to help prevent it."
The Ten Point Coalition works to reduce homicide and other violent crime in the city through direct engagement and promoting education and employment opportunities. Harrison, senior pastor of Barnes United Methodist Church, was among the group's founders in 1999 and has become an increasingly prominent public figure in Indianapolis amid concerns about rising homicide rates. Earlier this year, he considered an independent candidacy for mayor and had drawn significant public support before opting not to join the race.
A native of Jeffersonsville, Harrison has served in the ministry for three decades. He holds degrees from Indiana University and Methodist Theological School.