UIndy to present jazz take on 'Nutcracker Suite'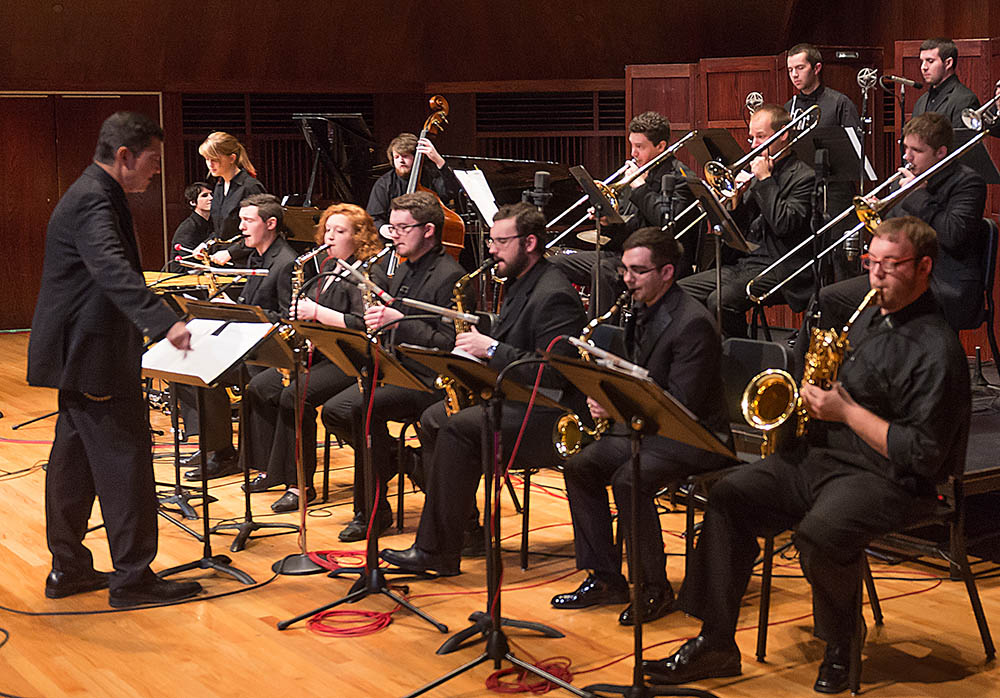 UIndy Jazz Studies students and faculty will be joined by local professionals Dec. 7 to perform the Duke Ellington-Billy Strayhorn adaptation of "The Nutcracker Suite."
LISTEN: UIndy's Freddie Mendoza on WFYI's "The Art of the Matter" (starts 15:30)
Dec. 7 concert features Ellington-Strayhorn adaptation of holiday classic
The University of Indianapolis will inject a dose of swing into the city's holiday arts offerings Dec. 7 when it presents Tchaikovsky's The Nutcracker Suite as reimagined for jazz orchestra by legendary bandleader Duke Ellington and his longtime collaborator Billy Strayhorn.
Larry Strayhorn, nephew of the great composer and arranger, will emcee this evening of music, featuring a 20-piece big band of UIndy students, faculty, alumni and local jazz professionals conducted by Freddie Mendoza, the university's Director of Jazz Studies. The concert, set for 7:30 p.m. in Ransburg Auditorium, also will celebrate the 100th anniversary year of Billy Strayhorn's birth. Tickets and more information are available at (317) 788-3251 or www.uindy.edu/etc. Admission is free for ages 18 and younger and UIndy students, and L/P credit is available.
The Ellington-Strayhorn Nutcracker was a hit recording upon its release in 1960, but until recently it was seldom performed live because the written score had not been officially published and was available only in underground transcriptions, Mendoza said.
"Before that, you just had to know who to talk to," said Mendoza, who led performances of the piece in his previous post at Texas State University and now hopes to continue the tradition in Indianapolis. The Dec. 7 concert also will feature other Strayhorn compositions.
Larry Strayhorn, visiting from his home in Mississippi, will open the event with some historical context and memories of the man he calls "Uncle Billy," who was a classically trained pianist as well as composer of "Take the 'A' Train" and other standards. Billy Strayhorn spent long hours in his New York apartment adapting nine segments of the classic ballet score for jazz performance.
"He brought a wealth of knowledge about the classical composers," Larry Strayhorn said. "They wanted to do something that would not make Mr. Tchaikovsky turn over in his grave."
On his UIndy visit, Larry Strayhorn also will present Lush Life, an Emmy-winning documentary film about his uncle, who died of cancer in 1967. The free screening will begin at 6:15 p.m. Dec. 4 in UIndy Hall of Schwitzer Student Center.