Street changes will add parking, ease traffic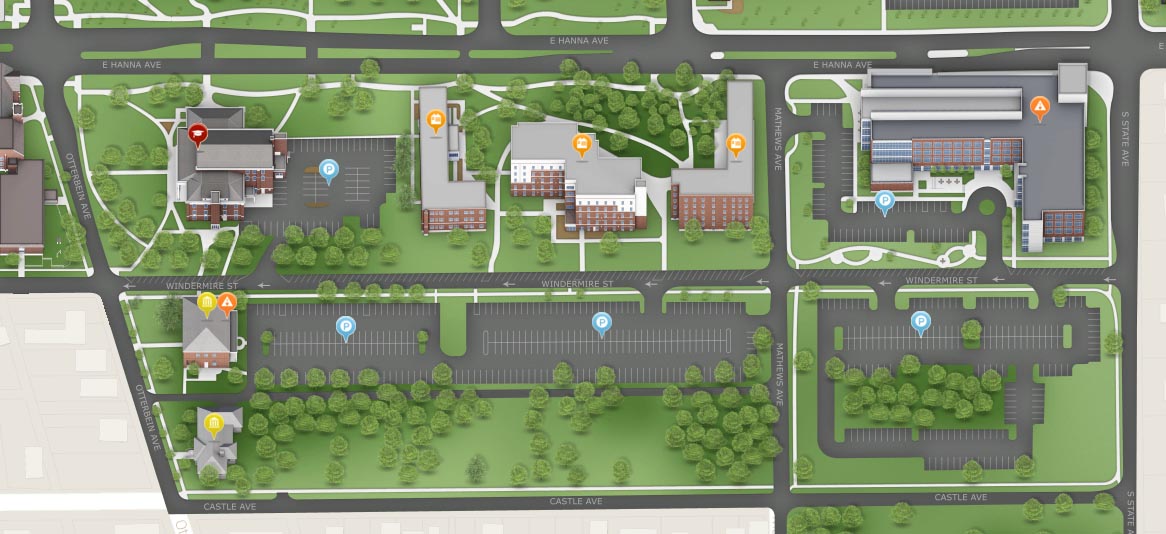 Starting next week, Windermire Street on the south side of campus will shift to one-way travel, and a new "reverse angle" parking layout will add more than 40 spaces. (Click map to enlarge.)
Video shows proper approach, benefits of reverse angle parking
In a move to add parking spaces, ease traffic flow, and create a safer campus, some changes will be taking place to Windermire Street when students, faculty and staff return from Thanksgiving break.
Windermire parallels Hanna Avenue, one block to the south, and provides access to Stierwalt Alumni House, the Professional Edge Center, Good Hall, the Health Pavilion, and Cravens, Roberts, and Warren residence halls, as well as several parking lots.
Effective Monday, Nov. 30, Windermire will become a one-way street from State to Otterbein avenues, with traffic running east to west. On Monday and Tuesday, there will be no parking as a crew converts the 30 current parallel-parking spaces along the north side of the street to 72 non-permit spaces in a "reverse angle" format, which is increasingly popular in many U.S. cities. The street will remain open to traffic at all times, said Pam Fox, executive director of Physical Plant.
The City of Indianapolis has provided information on reverse angle parking to explain the appropriate technique for drivers (drive past the space, then back in) and the benefits of the reverse angle design, which include better visibility, greater safety, and more efficient use of space on narrow streets.
Read about reverse angle parking
Watch an instructional video
The 42 additional parking spaces, scheduled to open late Tuesday, Dec. 1, will be good news especially for residential and commuter students. The new format also will reduce traffic congestion and facilitate snow removal and other maintenance.
After the switch, the best route to access the buildings and lots along Windermire will be:
If heading west on Hanna, turn left on State Avenue.
If heading east on Hanna, turn right on Mathews or State avenues.
From Otterbein, turn east on Castle and north on Mathews or State.
With any questions or concerns, please contact Pam Fox at foxp@uindy.edu or Dusty Bodart at bodartd@uindy.edu.