Sociology professor cited in New York Times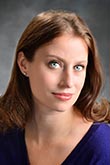 Associate Professor Amanda Miller of the Department of Sociology & Criminal Justice is a key source for a story in the New York Times on marriage proposal customs and expectations.
Headlined "Marriages May Not Be Forever, but Our Obsession With Diamonds Is," the story cites a 2006 study Miller co-authored and quotes her on more recent work that will inform an upcoming book, tentatively titled Cohabitation Nation, to be published by the University of California Press.
"Even among feminists, women want to be asked," Miller told the Times. "Few women want to tell the story how she proposed. They still want the man to make that grand, sweeping gesture."
Read the full story here.