Expo to celebrate community service work
Students and faculty will present and celebrate their recent volunteer work and service-learning projects Wednesday during the UIndy Service Expo and Forum in Schwitzer Student Center.
From 11 to 11:50 a.m. in the Schwitzer Atrium, visitors can see more than 30 examples of how the UIndy community lives its motto, "Education for Service."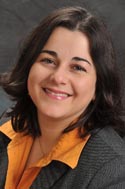 "We are lifting up the work that is being done by the faculty and students this semester," said Marianna Foulkrod, director of Service Learning & Community Engagement. "This is an event that celebrates all the different ways we engage with the community, from multidisciplinary work by faculty to the way students engage through service learning, unpaid internships and practicums."
From 12 to 12:50 p.m. in UIndy Hall A, a panel of students and community representatives will discuss issues surrounding community service. The panel will include Linda Kirby, president and CEO of Leadership Indianapolis, discussing civic engagement​; Nick Hoagland, COO of Backhaul Direct, representing the employer perspective; Brittany Finigan, who developed a food rescue project here at UIndy; and head coach John Higgins and players David Kurz and Casey Zimmerman of the men's soccer team, discussing their service efforts in Haiti and elsewhere. L/P credit is available.
The event is presented by the Center for Service-Learning & Community Engagement in partnership with the Office of Student Affairs and the Center for Business Partnerships.