Special events ease stress of Finals Week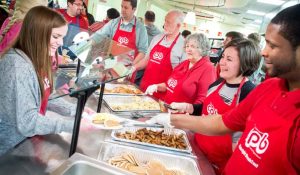 Finals Week has arrived, and though few look forward to the exams themselves, UIndy students have multiple opportunities to get last-minute academic assistance or simply take a break from the stress of studying.
The run-up last week included Wednesday night's Commuter Pizza Party, with free food and prizes such as gloves and ice scrapers for commuter students; and Friday night's Campus Program Board Fast Break, with free Buffalo Wild Wings, crafts, aromatherapy, Xbox games, the holiday comedy Elf and more. Also, Krannert Memorial Library is open around the clock from 10 a.m. Sunday to midnight Thursday.
Coming up are:
Peer Tutoring Finals Blitz
From 11 a.m. to 7 p.m. Sunday in Schwitzer 012 and 013, the Academic Success Center has organized a squad of peer tutors to help students bone up for exams in Business, Chemistry, Biology, Math and many General Education subjects, as well as tutors from the Writing Lab to assist with final papers.
Midnight Breakfast
In this Monday night tradition, faculty and staff volunteers man the Schwitzer kitchen to serve hearty late-night meals to book-weary students. Remember, the line starts forming well before the serving begins at 11:59. Pre-meal activities include, from 10 to 11 p.m. in the atrium, a chance to give President Robert Manuel or Dean of Students Kory Vitangeli a nice pie in the face, for a $2 fee that supports the senior class gift.
Dessert Diversion
From 6-8 p.m. Tuesday at Stierwalt Alumni House, the UIndy Alumni Association offers students, faculty, staff, alumni and their children a chance to unwind with some hot chocolate, sweet treats and photos with Santa.
After this week, students can look forward to a long Winter Break, with Semester II starting Tuesday, Jan. 19.