Marketing project benefits tech firm, students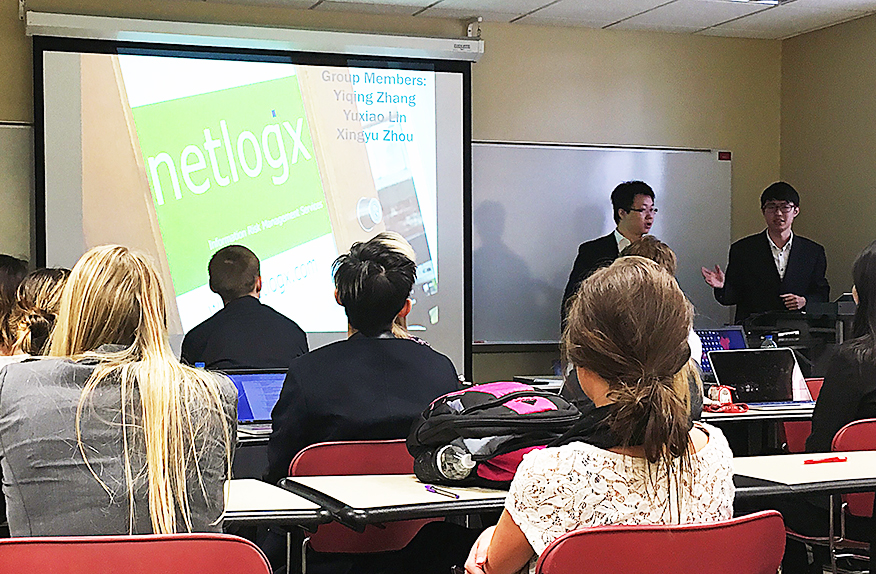 Students in Dr. Katharine Bohley's International Marketing course present their research findings to classmates and executives from local firm netlogx.
Indianapolis-based technology consulting firm netlogx has been listed among the city's fastest-growing private companies by the Indianapolis Business Journal and named one of the Indiana Economic Development Corp.'s Indiana Companies to Watch. In September, founder and CEO Audrey Taylor was named Women's Business Enterprise Role Model of the Year by the Great Lakes Women's Business Council.
In other words, Taylor and her husband and partner, COO Nick Taylor, seem to know what they're doing. But when they got the idea to expand their 70-employee national operation into the United Kingdom, they too sought input from external consultants: the students of Dr. Katharine Bohley's junior-level course in International Marketing.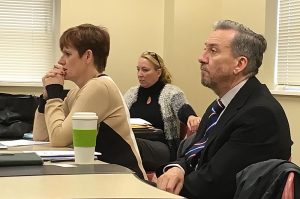 After conducting market research for much of the fall semester, the student teams formally presented their findings and strategies to the Taylors during a class session in December.
"I think we really got some great input from the teams that we can definitely move on with and start to leverage," Audrey Taylor said afterward. "We don't have all the answers."
The arrangement came together soon after fall classes began. The Taylors were already acquainted with the UIndy School of Business, having hired associates straight out of its MBA program. News of the company's intended U.K. push – specifically, a plan to pitch its information management services to Britain's National Health Service – spread through the faculty, who are always on the lookout for potential partners and applied learning opportunities for students.
Bohley, professor of Marketing and International Business, redesigned the course in progress to focus on netlogx and its goal of landing the NHS and its sprawling bureaucracy as a new client. The students divided into teams of three or four and began their research, guided by an initial briefing and periodic classroom visits from Nick Taylor.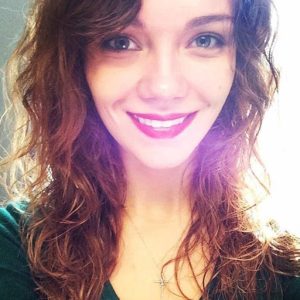 "He came multiple times throughout the year, and he was always very responsive if we needed to email him questions or get in touch with him," said junior Chaney Stansbury, a Marketing and Psychology double-major from Franklin. "One of my favorite things he said was, 'I don't care if you fail. I just want to see you try and see you be creative.'"
Creative they were, each team approaching the target from a unique direction. One group analyzed NHS' organizational structure. Some gathered contact information for key executives and decision makers. Another developed a concept for a mobile app product that would introduce netlogx to the market.
Stansbury's group, after some transatlantic phone calls, tracked down a U.K. government database where approved professional firms can offer their services, a lead the company intends to pursue. She enjoyed the open-ended nature of working on a genuine business challenge rather than a hypothetical case study.
"If it's fictional, there's already an answer they're expecting us to get," said Stansbury, who has applied for an internship with netlogx. "But with real life, it's 'What can you do for this company?' There's no one right answer in real life, and that's what I like."
After taking in the presentations, the Taylors said they were intrigued by the students' ideas and their unique approaches to the challenge. The netlogx culture values workplace diversity not only in gender and ethnicity, but also in age and mindset.
"We realize that we really have to understand millennials" both as employees and clients, Nick said, pointing to the company's internship program as another way to introduce fresh thinking. "We pay them, but what we get back is far more valuable to us."
Bohley was glad her class had a chance to broaden its experience by focusing on a business-to-business service, rather than the consumer product examples that are more common in textbooks.
"I think the students will have a great portfolio for whatever they're going to do next," she said.