Winning streak continues for men's basketball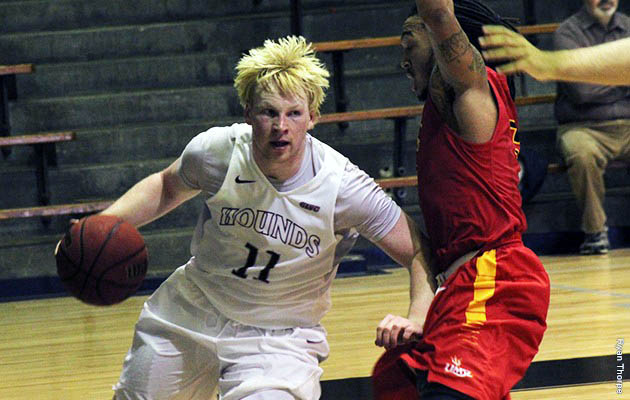 Senior guard Lucas Barker led the Greyhounds with 19 points Saturday at home against Missouri S&T. (UIndy Athletics photo by Ryan Thorpe)
The UIndy men's basketball team is riding a No. 20 national ranking and a nine-game winning streak as it continues its 100th anniversary season.
Undefeated since Nov. 17 after a 1-2 start, the Greyhounds (10-2, 4-0 GLVC) have been outscoring opponents by nearly 15 points per game. They lead the conference and rank second in Division II in free throw shooting, averaging 80.3 percent. The bench is averaging 33 points per game.
The Hounds travel this week to face conference foes Drury University (Springfield, Mo.) at 8:45 p.m. tonight and Missouri S&T (Rolla, Mo.) at 4 p.m. Saturday. Check out the previews at the UIndy Athletics website.
The season has been a bit tougher for the UIndy women's team, which stands at 3-11 overall and 1-3 in the GLVC, but the Greyhounds may be on a roll as they head into the two conference away games. They posted their first conference win Saturday, downing Missouri-St. Louis 64-55 in Nicoson Hall.
The women will face Drury at 6:30 p.m. tonight and Missouri S&T at 2 p.m. Saturday. Click here to read the previews.
All games will be carried live by UIndy's own WICR-FM/HD and the GLVC Sports Network. Visit athletics.uindy.edu for all the details.