New off-campus housing partnership impacts neighborhood renaissance on southside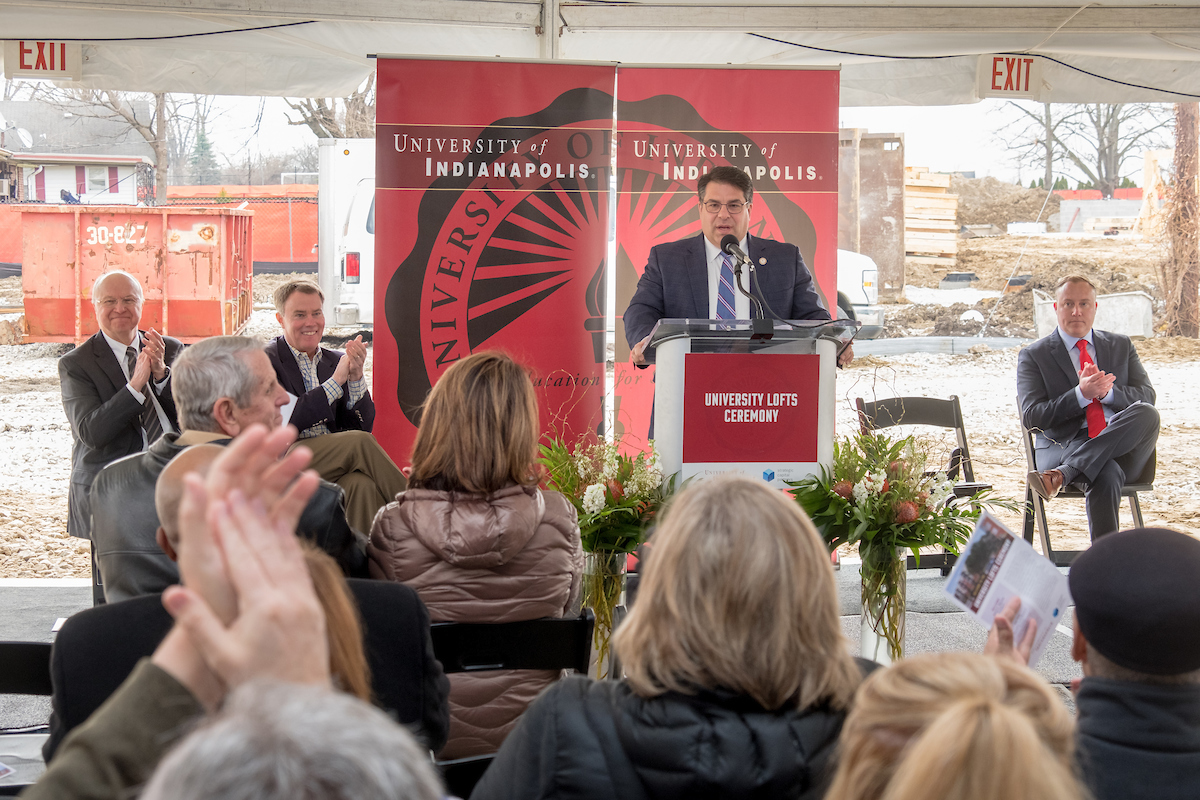 The University of Indianapolis joined city and community leaders to celebrate construction of the University Lofts apartments, the University's next off-campus student housing development in partnership with Indianapolis-headquartered Strategic Capital Partners. The $20.5 million investment marks the University's catalyst role in the renaissance taking place on the Indianapolis southside.
University of Indianapolis President Robert L. Manuel said the project is the latest example of the University's Vision 2030 plan in action that shows a neighborhood on the rise. Vision 2030 defines a strategy for University and community growth that includes more than $50 million in capital investment for the campus and surrounding area.
Recent projects include Greyhound Village, a student apartment complex that opened in 2016 and also was a joint venture between the University and Strategic Capital Partners, and the Books & Brews Used Bookstore and Taproom project, a partnership between the University and Indianapolis-based developer OakBridge Properties to update the former Shelby Bowl building, with an opening slated for 2018.

"University Lofts is an important part of our University's strategic plan to enhance the student experience and elevate the quality of life for our neighbors in the surrounding neighborhoods," Manuel said. "Every time the University of Indianapolis grows, it radiates a wave of positive impact by extending our reach to deliver important City needs with programs and facilities. By connecting communities, it serves to more fully connect the University with the City of Indianapolis."

The complex, which is located a short walking distance away from IndyGo's planned rapid transit bus Red Line, showcases the University's tradition of working with community and business partners to strengthen and connect the city's neighborhoods and improve quality of life for all residents. The Red Line will connect the University to the Indianapolis downtown, north side and popular entertainment districts.
Indianapolis Mayor Joe Hogsett said the project further elevates the southside's quality of life, as well as reinforces the University's role in strengthening Indianapolis' reputation as a destination for higher education.  
"University Lofts is a yet another testament to the exciting growth of Indianapolis' southside, as it provides an ideal space for our city's students to live, learn, and grow together," said Mayor Hogsett. "Strong schools and neighborhoods are what define a world-class city – and thanks to the visionary efforts underway at University of Indianapolis and in the surrounding area, our city will continue to thrive for generations to come."
The 118-unit, 300-bed complex, located at 1340 National Ave., opens January 2019 in time for the second semester of the 2018/2019 academic year. University Lofts and Greyhound Village are joint ventures of the University and Strategic Capital Partners. CSO Architects is the architect and Compass Commercial Construction Group is the general contractor.

"It is exciting and gratifying to be a part of a public-private partnership that is leading to the renaissance of the Indianapolis southside," said Will Zink, Strategic Capital Partners, senior vice-president for construction and development. "With University Lofts, Greyhound Village apartments and the many other creative developments near campus, these will make the southside a major destination."