MLK Day service project tackles hunger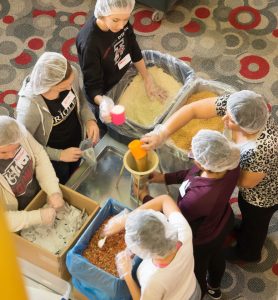 To mark Martin Luther King Jr. Day, more than 250 student, faculty and staff volunteers donated their holiday time Monday to preparing low-cost, high-nutrition meals for needy families in Indianapolis.
The crowd of volunteers turned the Schwitzer Student Center atrium into a hunger-busting assembly line for the afternoon, mixing and packaging 51,192 meals in collaboration with the local nonprofit group Pack Away Hunger. The day also included inspirational messages from guest speakers the Rev. Charles Harrison and Wayne Kimball Jr.
Check out UIndy's Facebook page for video and more photos. The event also attracted some news coverage:
WRTV-Channel 6
WTTV-CBS4