Exhibition traces start of public art in Indy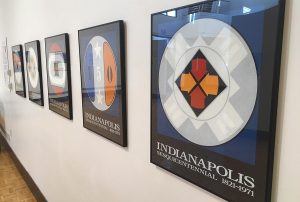 These prints by artist Roland Hobart were commissioned to mark the sesquicentennial of the City of Indianapolis in 1971. Hobart recently entrusted his personal collection to UIndy's Department of Art & Design. Hobart is expected to attend gallery receptions Monday and Feb. 5.
A half-century ago, the concept of public art began taking root in U.S. cities as a means to promote urban renewal, and Indianapolis was part of that wave.
The early efforts are the subject of the new exhibition in UIndy's Christel DeHaan Fine Arts Center Gallery, Public Art in Indy: Roland Hobart and a New Era in the City. On display through Feb. 12, the collection of photos, prints and historical documents and artifacts covers the years 1970-1977, spanning the mayoral administrations of Richard Lugar and William Hudnut. Gallery hours are 9 a.m. to 9 p.m. weekdays.
Spotlighted in the show is the work of Roland Hobart, designer of one of the city's first substantial public art projects: a towering outdoor mural along Delaware Street commissioned for the Indianapolis Urban Walls Project in 1973. Other featured works include Milton Glaser's "Color Fuses" mural at the Minton-Capehart Federal Building and James McQuiston's mural "The Runners" at 11 S. Meridian St., both dating to 1975. Architect Evans Woollen emerges as a key character in the narrative for his efforts to promote public art in the city.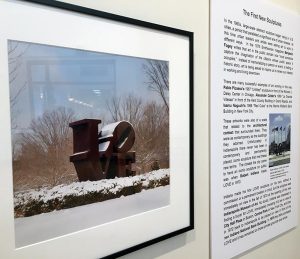 The materials on display come from various sources, including UIndy's Institute for Civic Leadership & Mayoral Archives and Department of Art & Design, which recently acquired Hobart's personal collection, and from the collection of local preservationist Richard McCoy, guest curator of the exhibition. Also included are five new commissioned photographs of local sculptures and public art projects by Indianapolis-based photographer Hadley Fruits.
The city's arts initiative really did reflect a new era, McCoy said.
"Indianapolis had been marketing itself as a war memorial city," he said.
The concept explored in the exhibition is the same one that underlies a new degree program offered by Art & Design, department chair James Viewegh said. Social Practice Art is designed as a second major for students studying Art & Design, Music, Theatre or English/Creative Writing. The multidisciplinary program prepares graduates for careers in community-based arts, with courses in the history, context and tools of creative placemaking and social entrepreneurship. Students gain hands-on experience in developing public work that engages communities and improves quality of life.
"The Social Practice Art major works within the spirit of public art and helps students understand the processes behind it," Viewegh said.
Public Art in Indy is showing in conjunction with this year's Richard M. Fairbanks Symposium on Civic Leadership, presented Feb. 5 by the Institute for Civic Leadership & Mayoral Archives in partnership with Indiana Humanities and the Arts Council of Indianapolis. Under the theme Building Vibrant Cities Through Art, local and national arts leaders will discuss the past, present and future of public art in Indianapolis and elsewhere. More information is available here.