Virginia Cravens '66 & the "Unfinished History" of Indiana Central College Alumni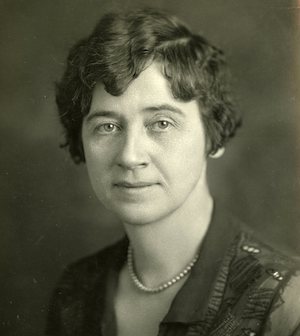 by Michael G. Cartwright
Vice President for University Mission  
This year we are exploring exemplars of the UIndy mission statement. 
Ordinarily, we do not praise people for their failure to carry out a task, but then Virginia Cravens (1884-1971) was an extraordinary figure. Like her colleagues Evan Kek and Anna Dale Kek with whom she served at Indiana Central during the Esch years, Miss Cravens was devoted to the students, faculty, and alumni of Indiana Central College.
In his December 1971 eulogy for Virginia Cravens, Prof. Roy V. Davis '25 was not shy in his use of superlatives to describe this beloved faculty and administrator. He also went out of his way to note that the longtime executive secretary of the Indiana Central Alumni Association "left unfinished her history of Indiana Central alumni." Davis confidently stated that the longtime English professor and Dean of women at Indiana Central College "would have wished" it to be this way. "To have lived until there were no tasks to finish would have been unthinkable to her. To her friends she had expressed her desire to die with her shoes on…" Prof. Davis concluded with admiration by saying, "and her prayer was answered."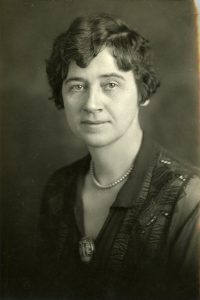 I suspect that at least a few of those people who gathered for the funeral of Virginia Cravens in December 1971 were a bit shocked to discover that this icon of Indiana Central College was not a graduate of the beloved institution where she taught and served for over 40 years. She actually graduated from DePauw University (Phi Beta Kappa) in 1910 and later completed a Master's Degree in English Literature at Indiana University in 1938. She was, however, an experienced educator who began teaching elementary school when she was only 18 years old. For 15 years before she joined the Indiana Central faculty in 1927, Miss Cravens taught English and Latin and served as principal of several schools in the state of Indiana.
I began this year's sequence of Mission Matters reflections in the fall of 2017 by re-introducing Anna Dale Kek '28 and her husband Evan Kek '30 to the University community. On that occasion, I tried to take into account their storied generosity even as I also made a bid for recalling the scholarly achievements of Dr. Kek as a classicist and linguist, as well as her contributions as a leader in the American Association of University Women. On that occasion, I borrowed the concept of "eulogy virtues" from the columnist David Brooks, and I used the "resume virtues" of this pair to illumine the ways in which they had served well at the alma mater, Indiana Central College.
In my last Mission Matters for the 2017-2018 academic year, I want to re-introduce a well-beloved figure on this campus from 1927 to 1971. Most knew her as the Dean of Women and member of the faculty in English Literature. However, we would do well to remember Miss Virginia Cravens in the context of the University's mission to "use the intellect in the process of discovery and the synthesis of knowledge." 
From what I gather, Virginia Cravens had a wide-ranging intellect. When I discussed this aspect of the UIndy mission statement last year, I chose scientific examples, including the American physicist George Draper. Precisely because of the scientific method, which entails continuous testing to determine the truth of the matter, much of the time we think of the use of the intellect as a scientific process of discovering and the synthesis of knowledge. I suspect that for many faculty and administrators, this mode of understanding is primary, but as Miss Cravens' life illustrates, science is not the only form that the synthesis of knowledge takes.
Teaching English Literature: In his eulogy, Prof. Roy Davis testified to Virginia Cravens' renown as teacher of English Literature. When she came to Indiana Central she had already taught for more than a decade in public schools. She was a member of the full-time faculty from 1927 to 1949. Davis stood in awe of her capacity to recall British and American poetry. Virginia Cravens was nothing less than "a storehouse of great literature" who "taught poetry with her heart as well as her head." In that era before internet resources, one would look up Bartlett's Familiar Quotations—the longest-lived and most widely distributed collection of quotations—first issued in 1855. Her admirers claimed that Miss Cravens would be able to recall the author and the lines before and afterward.
On other occasions, I have written about the importance of reincorporation, the pattern of memory that displays "resourceful selectivity" for purposes of institutional thinking and action. Many of us have enjoyed Dame Helen Mirren's impromptu reading of Longfellow's "Ulysses" on The Stephen Colbert Show, which resulted in the host of the show shedding tears.
Virginia Cravens used her prodigious gift of the intellect in various ways during her 44 years of service at Indiana Central College. And those who had the privilege of learning from and with Ms. Cravens, knew well that she loved poetry, especially from the canon of English literature. Pastor Roy Davis concluded his December 1971 eulogy with four lines from Tennyson's "Crossing the Bar," but there were probably alumni in the company that gathered to pay tribute to the beloved "grand old dame" of Indiana Central who could recall hearing Ms. Cravens' declaim stanzas of poetry, such as the last section from Alfred Lord Tennyson's "Ulysses."
…There lies the port: the vessel puffs her sail: 
There gloom the dark broad seas. My mariners,            45 
Souls that have toiled, and wrought, and thought 
with me— 
That ever with a frolic welcome took 
The thunder and the sunshine, and opposed 
Free hearts, free foreheads—you and I are old; 
Old age hath yet his honor and his toil;                           50 
Death closes all: but something ere the end, 
Some work of noble note, may yet be done… 
Though much is taken, much abides; and though           65 
We are not now that strength which in old days 
Moved earth and heaven, that which we are, we are; 
One equal temper of heroic hearts, 
Made weak by time and fate, but strong in will 
To strive, to seek, to find, and not to yield
I know that some would question the applicability of such a poem to the life of a woman. I also suspect that Ms. Cravens would have a response to anyone who might question why she would have such affinity for a poem that deploys such male metaphors in lines heavily populated with military imagery. Her cultivated defense of this marvel of free verse poetry would be amateur in the very best sense of the word, and more than a few of her students came away from the courses she taught having developed their own affinity for the poetry of the English language.
Executive Secretary of Alumni Relations: After her "retirement," Miss Cravens served for another two decades as Executive Secretary of the Indiana Central Alumni Association. Roy V. Davis, pastor of University Heights United Methodist Church, aptly described her as "a walking encyclopedia of personal biography," but Davis also made it clear that the information that she had gleaned across the years was embedded in relationships. "During her 22 years as editor of the Alumni News all of us eagerly looked forward to each issue to see what she had so painstakingly put together."
The news varied from what Anna Hardy '22 (one of the pioneering women clergy from Southern Indiana) was doing in Lafayette since relocating with her family after serving as a missionary in New Mexico, to the following note about another United Brethren clergyman.
Dr. Paul Milhouse, '32, was guest preacher each night of Holy Week at the University Heights EUB Church. A pastor for many years of the First EUB Church of Decatur, Illinois, Dr. Milhouse became an editor of the TELESCOPE-MESSENGER, official paper of the Evangelical United Brethren Church. He is now executive-secretary of the Council of Administration of the church with his home in Dayton, Ohio. Mrs. Milhouse is the former Mary Frances Noblitt, Normal '31. The Milhouses have three children: Mrs. Ronald Hauswald, who graduated from ICC in 1956 and now lives in New Albany, Indiana; Pauline, a junior at ICC ['61]; and Paul David, a freshman at ICC ['63]  
It is tempting to ascribe comprehensiveness to this description, but Miss Cravens would not have done so because in the 21st century there are still more people who are part of the expanding legacy associated with the Milhouse family. Since 1966, the network of associations has expanded to include our faculty colleague Brian Vermillion '90, who is the son of Pauline and Art, Brian's wife Tracy (formerly Shope) '89 and their son Will (currently attending) and daughter Mackenzie (currently attending), Brian's sister, Joy Rose (formerly Vermillion) '92, and their cousins (children of Ron '54 and Mary '56) Carol Wietholter (formerly Hauswald) '86, Greg Hauswald '80, Jeff Hauswald '82 (and their spouses).
When I contacted Brian about this matter, he added the following note: "My great-uncle and great-aunt George '42 and Dorothy Jacobs '39 (Dorothy was Paul's sister) and their children Mark '76 and Joyce '70 attended UIndy, as well as Frances' brothers, Loren '34 and QG Noblitt (two more great-uncles), I believe. The observatory in Lilly Science Hall is named after Loren, who crafted the lenses in the telescope."
I am calling attention to Brian's extended family to illustrate the kind of institutional knowledge (about alumni relations) that Miss Virginia Cravens would have known in her time. More than anyone else–with the possible exception of President Esch–she sustained and/or expanded the network of relationships for the alumni at a time when the total number of graduates would have been less than 3,000 and the student body would have grown from less than 200 to more than 750 students.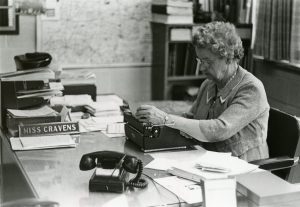 This was in an era when the synthesis of such knowledge was still very much a scribal task that required copying and cross referencing of information in card catalogue fashion. The technology of alphabetical order along with chronological correlation, which had been invented in the Middle Ages, has long since been superseded by digital technologies that tally such information.
When she died, Virginia Cravens had only completed the history of the alumni through 1912-13–assuming that the documents in the University's archives are the full record. However, that doesn't count the many index cards that she had collected, each of which had additional information about the graduates. We must also stop to remember that Virginia Cravens carried out this labor of love during her retirement years.
As Andy Kocher '98 recently explained, almost a half-century after Virginia Cravens took on the challenge of writing a history of the alumni, UIndy approaches this task systematically in concert with other offices.
"Today, the Office of Alumni Engagement, working in partnership with the University Advancement Services, helps to maintain an electronic database that houses the University's more than 32,000 alumni along with many other supporters, parents, and friends. Although a great deal of research is still required to locate, verify, and evaluate the accuracy of information, advances in technology have greatly improved our ability to gather information more efficiently. In addition to conducting research on a single individual as needed, updates can now be collected through submission of class notes and contact updates via the alumni website (uindy.edu/alumni), through event registrations, student phone calls, electronic notification of when alumni are featured in various news reports, and through data append processes like the United States Postal Service National Change of Address reports."    
In 2018, we synthesize knowledge within multiple matrices that serve diverse purposes–far beyond what any one person is capable of remembering. Even so, there is more to the story of Virginia Cravens.
Icon of Decorum and Propriety: Over the 45 years that she was associated with Indiana Central College, Miss Cravens served as the campus authority for matters of decorum. Ken Hottell '62 recalls that when he was a student, male students were required to where coat and tie to the evening meal. Miss Cravens sat at a different table every night, and she wasn't shy about telling male students how to behave any more than she instructed young women. She lived in one of the women's dormitories. Students encountered her in different settings at all times during the day–and sometimes at night–as well as through the week throughout the academic year. The Dean of Women saw it as her duty to teach manners to students.
Henricks '39 writes: "There are hundreds of Indiana Central students who owe whatever social grace they possess to the coaching of Dean Cravens. She was a great lady whose very presence instilled a proper decorum, but she was compassionate, as well." Consider the following testimonial from a member of the class of 1932. In 1944, Rev. Paul Milhouse recalled, "I remember Professor Virginia Cravens as the Dean of Women and teacher of English. She had a reputation of being a strict disciplinarian. There were "hours" for the girls to be in the dormitory for study. Frances and I 'dated' and visited in the basement of the woman's dormitory under Miss Cravens' watchful eye. We got along with her quite well and she even went out for drives on some of our dates." Indiana Central Bulletin, 37, #2, June 1944.
As generations of students came and went, the esteem for Dean Cravens grew. Perhaps the most remarkable thing about the alumni regard for Virginia Cravens is the fact that it continued to develop after her death in 1971. In 1986, the University re-named one of the residence halls on campus in her honor. President Sease explained it this way:
"A ladies' dormitory, built in 1961, has been known as Krannert Hall, because of the generous gift of Mr. and Mrs. Herman Krannert during its construction. Because we now have a Krannert Memorial Library… the dormitory is being renamed Cravens Hall. This is being done in memory and as a tribute to the service of Miss Virginia Cravens who served the University well for 45 years as an instructor and as its dean of women. There are countless legendary stories–some not admitted by the participants–of her encounters with students across many years. She had the capacity to teach men how to be gentlemen and women how to be ladies. It is appropriate that this beautiful and renovated dormitory be named in her memory."  
What alumni would have known was that more than anyone else she embodied the institution that they regarded as their "alma mater." We rightly look back on the 1950s and 1960s as the Esch era. If I. Lynd Esch was the father-figure of Indiana Central in the closing years of the ethos known as in loco parentis, then Virginia Cravens was the person who embodied motherly oversight.
Honorary Degree Recipient: The day in October 1966 that Indiana Central College dedicated the Schwitzer Student Center was a joyous time. The long-awaited Student Center was going to open. That fact in itself was enough to fill everyone with pride. But this occasion would also be the time when the faculty and administration of Indiana Central College would join with students and alumni to pay tribute to the beloved Executive Secretary of the Alumni Board, Miss Virginia Cravens, who was to receive an Honorary Doctorate of Humane Letters.
Those who were "in on the secret" must have been giddy with delight at the prospect of surprising their beloved teacher and colleague Virginia Cravens. Part of what made this occasion delightful was the fact that the person who everyone depended upon in these occasions was the person to be honored. This recognition also made permanent the connection that had been forged over a period of almost 40 years (1927 to 1966). Miss Cravens was now a graduate along with all the alumni who shared her love for Indiana Central. The next issue of Alumni News (October 1966, Volume 18, No. 1, p.3) included the following gracious acknowledgement from Miss Cravens.
"I am taking this means of thanking the alumni and other friends who made the dedication day of Schwitzer Center, the day I was given the honorary degree of Doctor of Humanities, so wonderful for me. Thank you for your generous applause, your congratulations, your flowers, and, above all, for the hundreds of letters of appreciation for my many years of service as Dean of Women and Executive Secretary of the Indiana Central College Alumni Association. I have spent almost two-thirds of my working years on the Indiana Central campus. They have been happy years, spent in pleasant surroundings and with cultured students and faculty. For all this I am thankful every day. I hope I may be allowed to continue my work with you. I wish I could express my appreciation in a better way, but all I can say is that I thank you sincerely."   – Virginia Cravens
This note of gratitude serves as an index to a transgenerational set of relationships that is woven too tightly to be taken apart. Indeed, it exists because of the kind of amateur synthesis that exists within reciprocal relationships mediated by affection, respect, and love for one's alma mater. It did not always exist. It became possible due to the work of many people, and chief among those we owe a debt of gratitude is Virginia Cravens.
Dean Cravens had a prodigious memory, which she cultivated for uses that served the common good. Having achieved admission to Phi Beta Kappa, the oldest honorary society for academic achievement, she might have chosen to use her intellectual gifts in other ways. For example, she might have been a scholar who specialized in the poetry of Tennyson or the Brownings. Instead, she used her acumen "in the process of discovery and the synthesis of knowledge" for purposes of institutional stewardship. To use today's parlance, Virginia Cravens managed data. She gathered addresses, alphabetized names according to the year(s) alumni graduated, dealt with exceptional cases, and many other tedious tasks. But of course, the synthesis of knowledge about alumni is also about relationships that are at once generative and generous by nature.
And, therefore, Dean Cravens might gently scold us, we need to remember that the ties that bind alumni to their alma mater are also matters of poetry–by no means limited to the words of the alma mater that we sing at convocation and commencement–words that convey loyalty and affection. On such occasions, we catch a glimpse of the myriad connections, of an ever-expanding set of relationships that extend across generations. Tracking all those connections is more than anyone can do in a lifetime, even someone as extraordinary as Dean Virginia Cravens, Indiana Central College Class of 1966.
***************
This is the last "Mission Matters" reflection for this academic year. And this also concludes my fifth year to lead the work of the Office of University Mission. Next year, I will be introducing several new resources. As a result, the schedule of Mission Matters articles will shift from monthly to twice a semester in rotation with digital videos on mission topics. As always, I invite your feedback at missionmatters@uindy.edu. In the meantime, thanks for taking the time to reflect with me.
Remember: UIndy's mission 

matters!