Registration now open for Summer Classes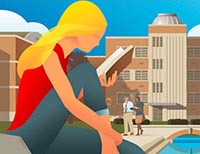 Registration opens today for the University of Indianapolis' growing catalog of Summer Classes, which enable students from UIndy and other accredited universities to use their summers strategically to advance and enrich their education.
The offerings include more than 200 introductory and upper-level courses in fields such as business, mathematics, the sciences, the arts and the humanities, with campus-based, online and hybrid options available. Most courses run for seven weeks and are offered between early May and mid-August. Students can view the catalog and apply online at uindy.edu/summer.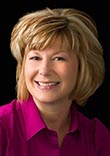 "Despite the winter weather, this is really the key time to plan for summer," said Rachelle Merkel Diaz, director of UIndy's new Office of Summer Programs. "These programs offer so many advantages that students who don't try it are missing a great opportunity."
Students take summer courses to get ahead in their studies, open up time to take special electives during their fall and winter semesters, and stay on track to graduate on schedule, saving significant money on tuition. Summer tuition is lower than standard undergraduate rates, and most summer courses correspond with Indiana's Core Transfer Library, which ensures that the credits earned will transfer among all of the state's public colleges and universities and also many private institutions.
That transferability makes UIndy's Summer Classes appealing even to students enrolled at other accredited institutions, allowing them to make progress on their degrees during the summer break – and to do so closer to home, in the case of central Indiana residents. At UIndy, students can expect personal attention in small classes, and the 60-acre campus is just minutes away from downtown Indianapolis.
Along with the academic courses, the Office of Summer Programs also coordinates UIndy's youth camps in sports, the arts and enrichment subjects, as well as the university's menu of facilities and services available for summer conferences and special events. More information is available at uindy.edu/summer.