Scholars' Day puts undergraduate research in the spotlight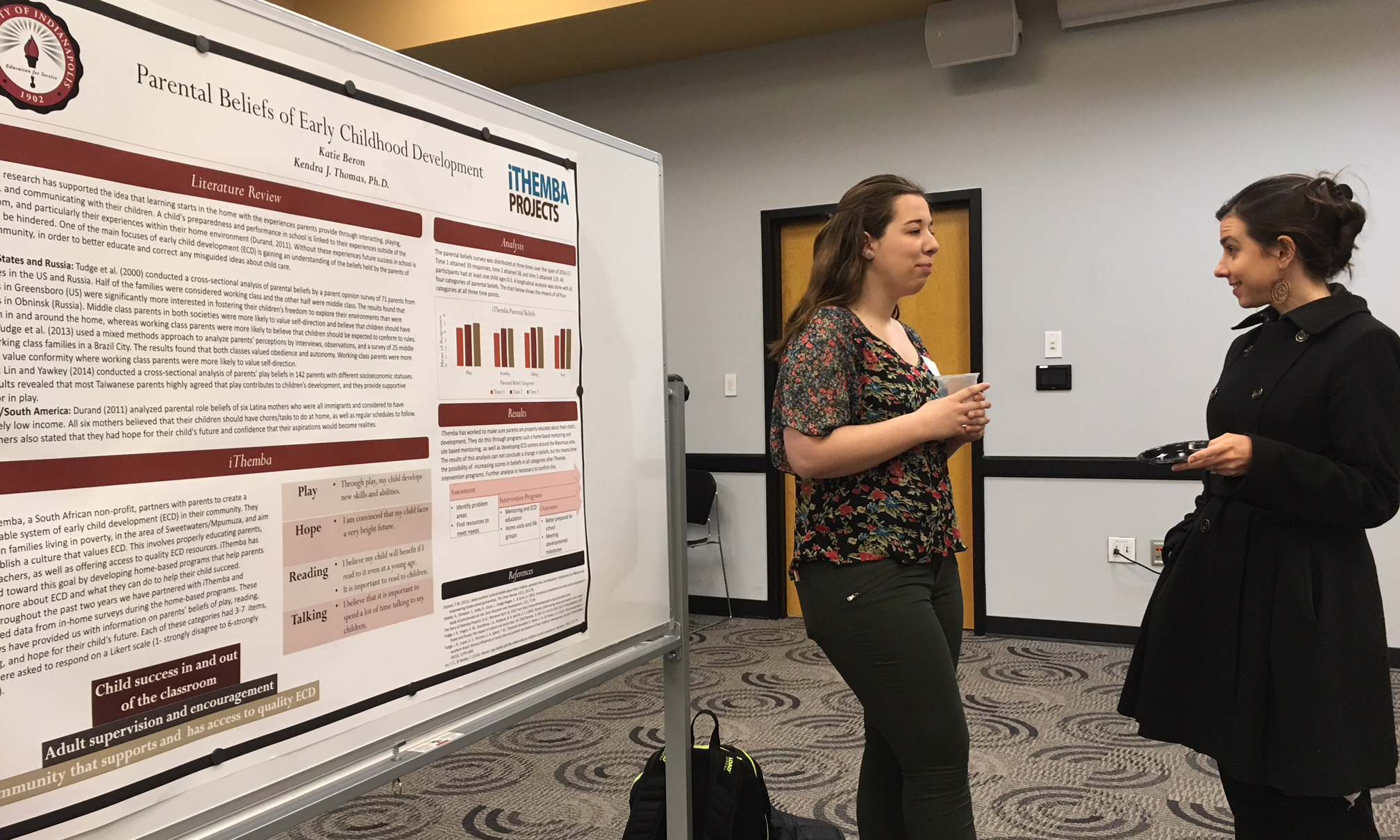 The power of undergraduate research was on display recently for Scholars' Day at the Schwitzer Student Center.
Presented by the Shaheen College of Arts & Sciences and the Ron & Laura Strain Honors College, this celebration of original undergraduate scholarship takes place every April. University of Indianapolis Board of Trustees Chair Yvonne Shaheen provided the keynote address at a noon luncheon.
Some students returned the next day, April 21, for a special research showcase at the annual Donor-Scholar Luncheon where students were awarded for Best Presentation and Best Poster Presentation. Winners were as follows:
Best Shaheen College Poster – Brody Deno, (Dr. Marc Milne): "Identifying an unknown Agyneta sp. via DNA sequencing"
Best Shaheen College Presentation –  Lucy Shirley, (Dr. Sharon Parr):  "Sounds and scents: analyzing the use of poetry in two of Debussy's works"
Best Honors College Poster – Kennedy Nies, (Dr. Dean Wiseman): "Effects of ciprofloxacin in combination with front-line cancer drugs on MIA-Pancreatic Carcinoma cells"
Best Honors College Presentation – Savannah Alexander, (Dr. Jordan Waldron and Dr. Jacqueline Hess): "Burmese American Community Institute Impressions of Refugees' Likelihood to Seek Mental Healthcare"
Faculty organizers are Brad Neal, assistant professor of chemistry and Director of Shaheen College Undergraduate Research Initiatives and Research Fellows Coordinator,  and Jennifer Camden, professor, associate director of the Strain Honors College, and associate chair of English. Camden said Scholars' Day requires students to understand how to conduct rigorous research in their fields and to discuss that research in accessible terms with a non-expert audience.
"Undergraduate research builds on the kinds of faculty-student collaborations possible thanks to UIndy's small teacher-student ratio by extending research beyond the boundaries of a classroom or a single semester," Camden said.
Students presented research from a wide variety of academic disciplines, including honors projects presented by Strain Honors College students. Those projects are a capstone experience that allows each honors student to develop a dream project, with the support of a faculty member and input from Honors College faculty, and then bring that project to completion, Camden explained.
"One of the strengths of UIndy and the Shaheen College of Arts & Sciences is the commitment to student-led research. At many institutions, faculty and students engage in research projects, but not many places have an intentional 'work with me' as opposed to a 'work for me' approach like UIndy does," Neal added.
Research topics run the gamut of the arts, sciences, applied behavioral sciences and more. Here's a look at this year's topics:

Emily Stern, (Shaheen College, Dr. Marc Milne), "The effect of mechanical felling and burning on spider abundance, taxonomic composition, and diversity in North Carolina"
Bau Thu Dinh, (Shaheen College, Dr. Marc Milne), "The effect of wildflower strips on spider abundance and diversity in Florida"
Madison Hershberger (Honors, Prof. Barney Haney), "Book of Poetry"
Kaila Daily, (Shaheen College, Prof. Katherine Fries), "Daredevil Typesetting"
Erica Hedrick (Honors, Dr. Lisa Elwood), "Association Between Perceived Control, Stigma, and Empathy in Relation to Military Trauma"
Lucas Frandsen, (Shaheen College, Dr. Marc Milne), "Approaching 100 New Spider Distribution Records in Indiana"
Brody Deno, (Shaheen College, Dr. Marc Milne), "Identifying an unknown Agyneta sp. via DNA sequencing"
Cailin Davis, (Shaheen College, Dr. Kevin Gribbins), "Ultrastructure of Spermiogenesis within the testis of the Earless lizard, Holbrookia elegans"
Casey Wendorff, (Honors, Dr. Kevin Gribbins), "Ultrastructural Analysis of the Southern Bunchgrass Lizard, Sceloporus aeneus"
Kaitlyn Sullivan (Honors, Dr. Lochana Siriwardena), "Modeling Stock Prices Using Geometric Brownian Motion with Delay"
Corey Nack (Honors, Dr. Kathryn Boucher), "Effects of Stigma due to Acne on Academic Performance and Success"
Katie Beron, (Dr. Kendra Thomas), "Parental Beliefs of Early Childhood Development"
Cheri Walker-Owens (Honors, Dr. Paul Talaga), "A Demonstration of Digital Steganography"
Hayler Sabol, (Shaheen College, Dr. Kimberly Baker), "Inhibition of breast cancer cell proliferation by the dietary flavonoids fisetin, hesperetin, and luteolin"
Tabitha Bergman (Honors, Dr. William Essman), "Resilience and empathy traits: association of patterns on trait inventories and endorsement of experiences associated with personality disorders"
Lauren Bryant (Honors, Dr. Kevin Gribbins), "Spermiogenesis within the Testis of the Male Map Turtle, Graptemys geographica"
Kate Hamori, (Shaheen College, Dr. Elisabeth Hoegberg), "Children's Music of Claude Debussy and Béla Bartók
Lucy Shirley, (Shaheen College, Dr. Sharon Parr), "Sounds and scents: analyzing the use of poetry in two of Debussy's works"
Sam Kubina, (Shaheen College, Dr. Vu Nguyen), "Conducting: the silent way to make music"
Danny Gerth, (Shaheen College, Dr. Elisabeth Hoegberg), "Implications and Avoidances of Tonality in the music of Charles Griffes"
Schuylar Casto (Honors, Dr. Laura Wilson), "Black and Blue: The Statistical Analysis of Threat Level in Lethal Police Encounters"
Cheyenne Granger, (Shaheen College, Barry Barnes), "Celadon Ceramics: A History and Glaze Testing"
Nicole Scott, (Shaheen College, Dr. Douglas Stemke), "Investigations of Microbial Antibiotic Resistance in a Residential, Crop Field, and Beef Cattle Pasture in Rural Decatur County, Indiana"
Taylor Hauersperger, (Shaheen College, Dr. Dean Wiseman), "Comparison of Humanin protein in cancerous and non-cancerous cell tissue samples"
Hannah Haller, (Shaheen College, Dr. Daniel Scholes), "The effect of light color on growth and reproductive success following damage of Arabidopsis thaliana"
Jessica Thompson, (Shaheen College, Dr. Christopher Moore), "The Tattooing of Ceramics: Transfer Printed Pottery"
Dawson LaBaw, (Shaheen College, Dr. Kevin Gribbins), "Architecture and Histology of the Skin Glands in Eurycea lucifuga"
Tyler Swanson, (Shaheen College, Dr. Lochana Siriwardena), "Statistical Clustering for Math Education Data in Massachusetts"
Kennedy Nies (Honors, Dr. Dean Wiseman), "Effects of ciprofloxacin in combination with front-line cancer drugs on MIA-Pancreatic Carcinoma cells"
Samuel Somesan, (Dr. Stephanie Combs-Miller), "Relationship between hope and exercise in physically active individuals with Parkinson's Disease"
Eileen Chou, (Melissa Sherman), "Triple Threat Triathalon"
Caroline Kolp and Kayleigh Smith, (Dr. Kathryn Boucher and Dr. Jordan Waldron), "Stigma and Gender Stereotypes of Generalized Anxiety Disorder and Implications of Treatment"
Kalebb Vanfossen, (Shaheen College, Dr. Levi Mielke), "Forensic Analysis of Gunshot Residue by Gas Chromatography-Mass Spectrometry"
Grant Smith, (Shaheen College, Dr. Peter Murphy), "Meat Reduction App"

Spencer Martin (Honors, Dr. Molly Martin), "Ordinary Magic and other Stories: A Queer Fantasy Short Fiction Chapbook"
Sara Perkins and Kylie Seitz, (Shaheen College, Dr. Jessica Bannon), "Immigrant Stories Project"
Savannah Alexander (Honors, Dr. Jordan Waldron and Jacqueline Hess), "Burmese American Community Institute Impressions of Refugees' Likelihood to Seek Mental Healthcare"