Public arts symposium generates big ideas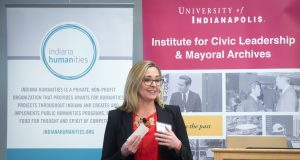 Keira Amstutz, executive director of Indiana Humanities, kicks off a discussion session at today's Richard M. Fairbanks Symposium on Civic Leadership at UIndy, titled Building Vibrant Cities Through Art.
See more photos on Facebook and other highlights on Twitter at #buildindyarts.
A capacity crowd of more than 200 arts professionals and community leaders from Indiana and surrounding states gathered today at the University of Indianapolis to discuss the role of the arts in community development and civic life.
Building Vibrant Cities Through Art, the third annual Richard M. Fairbanks Symposium on Civic Leadership, was presented by UIndy's Institute for Civic Leadership & Mayoral Archives in partnership with Indiana Humanities and the Arts Council of Indianapolis.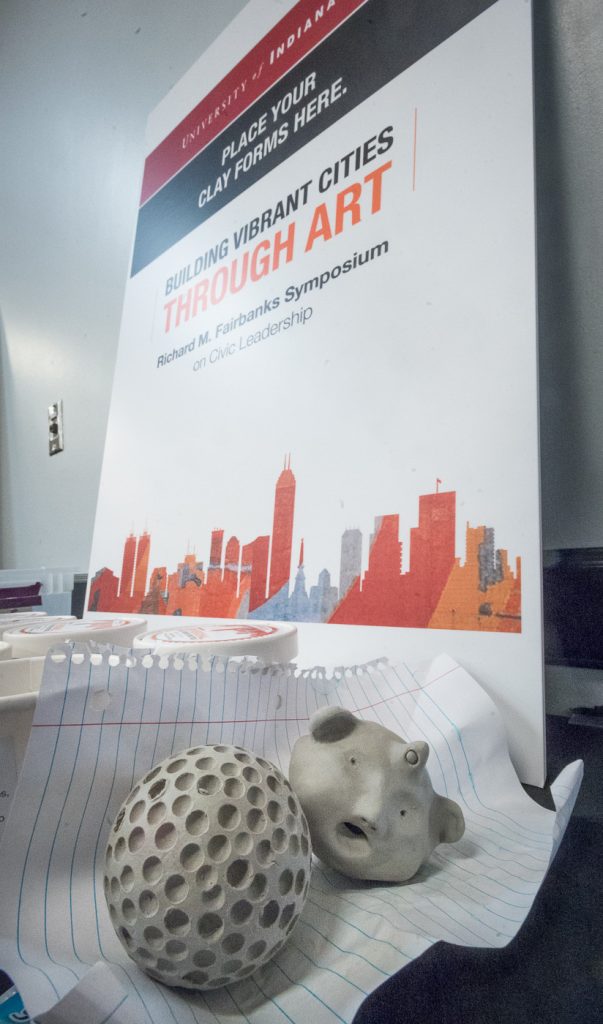 Throughout the day, participants had their own opportunity to be creative, each receiving a small sphere of clay (at right) to mold and texturize for a project conceived by Assistant Professor Barry Barnes of UIndy's Department of Art & Design. Barnes will fire the pieces and assemble them into a large outdoor sculpture, the first of a series to be displayed on campus as UIndy Diversity Gates.
In the keynote discussion, Michael Kaufmann, vice president of civic investment for the Health & Hospital Corp. of Marion County, spoke with Angel Ysaguirre, executive director of the Illinois Humanities Council and former deputy commissioner for the Chicago Department of Cultural Affairs and Special Events. Discussing the value of after-school and community arts programming in reducing crime and poverty, they noted the need for cities to relax codes and bureaucratic hurdles that discourage artists, musicians, architects and restaurateurs from revitalizing urban spaces.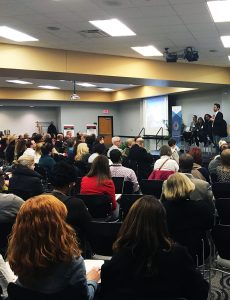 During a "lightning round" of presentations under the title "Changing Urban Areas through the Arts," Mark Ruschman, longtime art dealer and chief fine arts curator for the Indiana State Museum & Historic Sites, recounted the transformation of Indy's Massachusetts Avenue from a sagging downtown backwater into an upscale promenade of restaurants, shops and galleries. Julia Moore, director of public art for the Arts Council of Indianapolis, described the concept of "arts infusion," the integration of creative activities into otherwise non-artsy public events and spaces. (One example: The 2012 Super Bowl mural project.) Jim Walker, founder and executive director of the grassroots Big Car Collaborative, outlined his group's ongoing initiative to reboot the Garfield Park neighborhood as a hub for the arts.
"What's Next on Indianapolis' Arts Landscape?" was a panel discussion in which Joanna Taft, executive director of the Harrison Center for the Arts, explained how her organization builds community and develops new generations of arts patrons. IPS Superintendent Lewis Ferebee talked about the school system's collaboration with local arts organizations on an initiative funded by the Kennedy Center.
Following the symposium sessions, attendees migrated to the Christel DeHaan Fine Arts Center Gallery to view the current exhibition, Public Art in Indy: Roland Hobart and a New Era in the City, a collection of historical images and documents that explores Indianapolis' first forays into public art in the 1970s. Present at the reception was Hobart himself, one of the first artists ever commissioned by the city to create prints and mural designs for public viewing. T-shirts and prints based on his designs were available for purchase.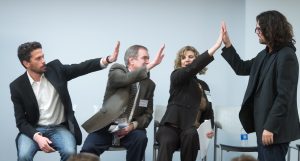 Sharing high fives as they are introduced are panelists (from left) Richard McCoy, director of Landmark Columbus; Mark Ruschman, chief fine arts curator for the Indiana State Museum & Historic Sites; Julia Moore, director of public art for the Arts Council of Indianapolis; and Jim Walker, executive director of Big Car.