Nominations Open: Peters 'Good Neighbor' Award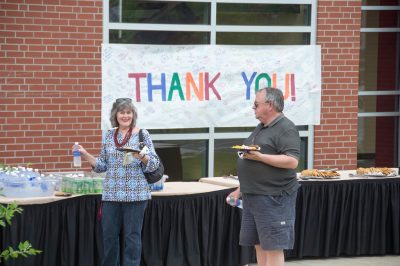 Nominations for the Peters "Good Neighbor" Award are solicited from students, staff and faculty of the University of Indianapolis.  The award is given each year to a person best exemplifying characteristics of neighborliness through a consistent life-style or a specific humanitarian act.
The Peters Award was established in 1983 by Dr. Robert Brooker (Herbert G. Bohn Professor Emeritus of Chemistry – affiliated with the University of Indianapolis from 1950 to his death in 2000).  It honors Hobart and Ella Peters for the qualities of neighborliness that they exemplified throughout their lives.  The award is to be presented to the person on our campus who best exhibits by word, deed, and attitude the characteristics of neighborliness.
The following are details regarding the process of nomination for this year.
CRITERIA:  Neighborliness is understood by the selection committee to include the following components:
    Kindness and generosity.
    Commitment to service without thought of recognition or
    Forethought and consideration of the needs and interests of others.
    Respect for the integrity and worth of other persons.
    Willingness to aid others at the expense of one's own convenience.
The committee grants the Peters Award solely on the basis of the preceding criteria. Scholarship, need, and religious belief do not constitute criteria for the award.
Any student, staff member, or faculty member is eligible to be considered for the "Good Neighbor" Award.  Persons who have been nominated in the past may be nominated again for this year's award.
Nominations are due by Friday, May 11, 2018.  Send your nominations to Cindy Sturgeon, csturgeon@uindy.edu or via campus mail to EIP, SC203.