UIndy for Riley dances toward $20,000 goal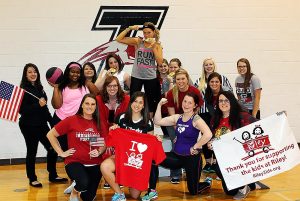 UIndy for Riley members strike a pose to reflect the Olympics theme behind this year's Dance Marathon, taking place Saturday at Ruth Lilly Fitness Center.
UPDATE: UIndy for Riley exceeded its goal with a total of $21,121.17. Watch the coverage on Fox59 and CBS4.
Annual event caps year of fundraising for renowned children's hospital
For junior Carly Nicholson, helping to organize, promote and host the annual UIndy for Riley Dance Marathon is a personal pleasure and a heartfelt commitment.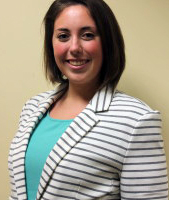 Since age 7, the aspiring climate scientist from Indianapolis has undergone 13 surgeries at Riley Hospital for Children at IU Health, and she is a big fan.
"I'm a 'Riley kid' myself," says Nicholson, marketing chair of the UIndy for Riley executive committee. The same is true of the committee's president, junior Allie Bishop, now in her third year with the group.
The Dance Marathon, scheduled this year for 2 to 8 p.m. Saturday at UIndy's Ruth Lilly Fitness Center, is the culmination of a year-round series of fundraisers. More celebration than competition, the event includes music, games, food and entertainment and is designed to put the group across its monetary goal line for the year.
The total has grown dramatically in a short time, from about $1,000 in 2008 with just 20 participants to more than $15,000 last year with 130. This year, the goal is $20,000, with as many as 200 participants expected. They've been collecting pledges online, as have the 16 members of UIndy for Riley. Their rallying cry is "FTK" – For the Kids.
"As soon as we finished last year's dance marathon, we started raising money again," Nicholson says.
The UIndy Dance Team is joining in Saturday and already has collected nearly $300 for the cause. Greyhound athletics teams are usually part of the mix, this year represented by men's soccer and men's and women's golf. Most importantly, eight Riley kids and their families will attend to enjoy the festivities and share their personal stories.
"It is a huge deal to me to be able to bring Riley kids to an event like this," Nicholson says. "They think being able to hang out with college kids is cool, and it's great for them to meet the athletes and to know that we're in their corner."
To donate, learn more and read the group members' stories about why the event is important to them, visit their website at www.uindyforriley.org.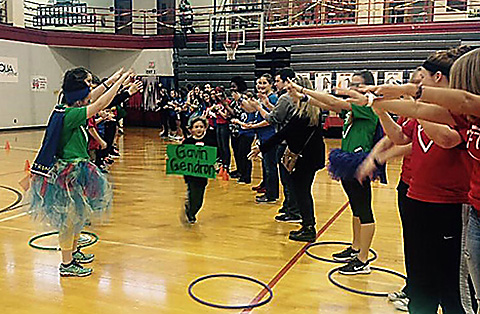 Young patients from Riley Hospital for Children make their grand entrance through a human tunnel at last year's UIndy for Riley Dance Marathon.