Dinner Theatre presents top British comedy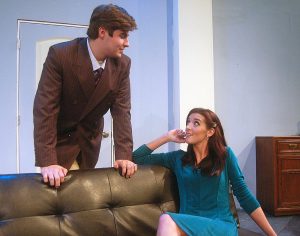 Sophomore Josh Kruze and senior Morgan Jackson lead the cast of Out of Order, a Dinner Theatre production opening Feb. 19 in Schwitzer Student Center.
A celebrated British farce is this season's dinner production from the University of Indianapolis Department of Theatre.
Out of Order by Ray Cooney, winner of the 1991 Laurence Olivier Award for Best Comedy, opens Feb. 19 in UIndy's Schwitzer Student Center, 1400 E. Hanna Ave.
Set in a posh London hotel, the action follows government junior minister Richard Willey (sophomore Josh Kruze) as he plans an adulterous tryst with opposition typist Jane Worthington (senior Morgan Jackson) and then attempts to lie his way out of the situation. The UIndy cast also includes Tim Allen, Tyrell Harris, Justus Hurst and Lizz Krull.
The run continues Feb. 20-21 and 25-27, with dinner at 6:45 p.m. and performance at 8 p.m. Admission, which includes the meal, is $26 for the general public and $24 for UIndy alumni, senior citizens, groups of eight or more, and non-UIndy students with ID. Admission for UIndy students, faculty and staff is just $14. Tickets and more information are available at uindy.edu/etc or (317) 788-3251
Out of Order is presented by special arrangement with Samuel French Inc.
Bargain hunters should take note of the free preview at 8 p.m. Feb. 18 (performance only, no dinner) and the Half-Price Second Thursday performance at 8 p.m. Feb. 25, with admission just $6 (performance only).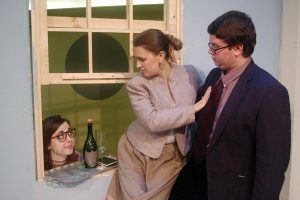 The cast of Out of Order includes (from left) Justus Hurst, Lizz Krull and Tim Allen.