Alumni accomplishments draw attention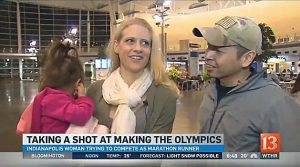 UIndy alumna and world-class distance runner Erin Nehus-Vergara talks to WTHR as she boards a flight to Los Angeles with husband Frank and daughter Layla.
She didn't qualify for the 2016 Olympics in Rio, but Erin Nehus-Vergara is still a winner.
A graduate of UIndy's Krannert School of Physical Therapy, Nehus-Vergara placed 19th out of 250 runners competing Saturday in the women's Olympic Marathon Trials in Los Angeles. It was her second trip to the trials, but her time of 2:41:10 was not quite enough to make the Top-3 cut.
Considering, however, that she's a few years older than most of the competition, working full-time for Nightingale Home Health Care, raising a 2-year-old daughter and supporting her Afghanistan-veteran husband in his battle against stage IV cancer, her accomplishments are nothing short of amazing.
Watch this WTHR report from Friday, as Nehus-Vergara was boarding the plane to L.A.
*               *               *
The Indianapolis Business Journal has released its annual Forty Under 40 list, and once again a UIndy grad is noted among the city's young movers and shakers.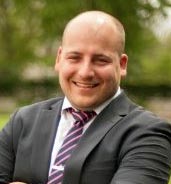 Joel Zawacki pitched for Greyhound baseball and graduated magna cum laude in 2006 with a bachelor's degree in Sport Management and a minor in Business Administration. He now serves as director of corporate sales and marketing for the Indianapolis Indians, whose game attendance and sponsorship revenue have gone through the roof since Zawacki joined the organization in 2007.
A GLVC All-American as a student-athlete, Zawacki now serves on the board of the Leukemia and Lymphoma Society's Indiana Chapter and remains active with UIndy's Greyhound Club and Kinesiology Advisory Board. "It certainly becomes more challenging now that I've got a little one at home," he told the IBJ, "but the school has played a huge part in my success. I certainly enjoy giving back to them."
Read more here about the Forty Under 40 honor, and read IBJ's previous feature story about Zawacki here.
*               *               *
A graduate of UIndy's Department of Theatre recently was named a 2015-2016 VIP Woman of the Year by the National Association of Professional Women.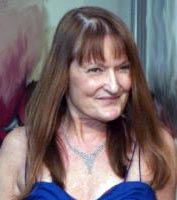 Gayle Stahlhuth is an actress, playwright, producer and director who has appeared on television and radio and in off-Broadway and regional theater. She is the artistic director for East Lynne Theater Company in New Jersey, which presents and preserves American theater classics and new works based on American literature and history.
The NAPW boasts 850 members nationwide. Read more about Stahlhuth's honor here.