Feb. 24: Greyhound hoops, tours of new clinic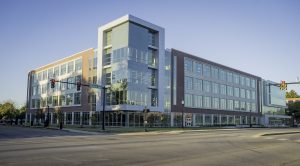 The UIndy Health Pavilion, which opened last fall at Hanna and State avenues, houses the university's health- and wellness-related academic programs alongside the student and staff wellness clinic, the Psychological Services Center and Community Health Network's newest physical therapy and rehabilitation clinic.
Annual Pack-the-House Night is an unofficial homecoming for alumni
and a joint celebration for UIndy and Community Health Network
The UIndy community and the general public are invited to join in a big night Wednesday, Feb. 24, featuring NCAA basketball action, a buffet dinner and tours of the UIndy Health Pavilion and its key tenant: Community Health Network's new physical therapy and rehabilitation clinic.
There's also a chance to win an iPad.
The occasion is UIndy's annual Pack-the-House Night at Nicoson Hall arena, as the Greyhound basketball teams face rival Saint Joseph's College in their final home games of the season. The women's game at 5:30 p.m. will be preceded by a Senior Night ceremony. The men's team, now celebrating its 100th anniversary, will play at 7:45 p.m., with halftime proceedings that include giveaways and special recognition of alumni and faculty accomplishments.
In conjunction, UIndy and Community Health Network are partnering to introduce local residents to the new Community Physical Therapy & Rehab clinic, located in the UIndy Health Pavilion at 1643 E. Hanna Ave. The clinic is the focal point of a multifaceted collaboration between the university and the hospital and health system. Although Community Health Network operates many such clinics around central Indiana, this is the first within a six-mile radius of the UIndy campus, offering easy access and quality care for families living on Indianapolis' Southside and in Johnson and surrounding counties.
Pack-the-House activities begin at 4:30 p.m. Feb. 24 in the Health Pavilion, located across Hanna Avenue from Nicoson Hall. The buffet dinner, dessert and clinic tours will be offered until 7:30 p.m. Visitors who take a tour can register to win the iPad, which will be presented during the men's game. UIndy students will lead games and other activities for kids in the Health Pavilion's yoga room.
The cost for dinner and admission to both basketball games is $10 for adults; $7 for seniors and UIndy students, faculty and staff; $5 for ages 3 to 12; and free for children younger than 3. Students on meal plans can swipe their cards.
Tickets and more information are available at getinvolved.uindy.edu/PTH2016 or (317) 788-3295.